Check These Cloud Security Basics That Every CIOs and CTOs Should Be Aware Of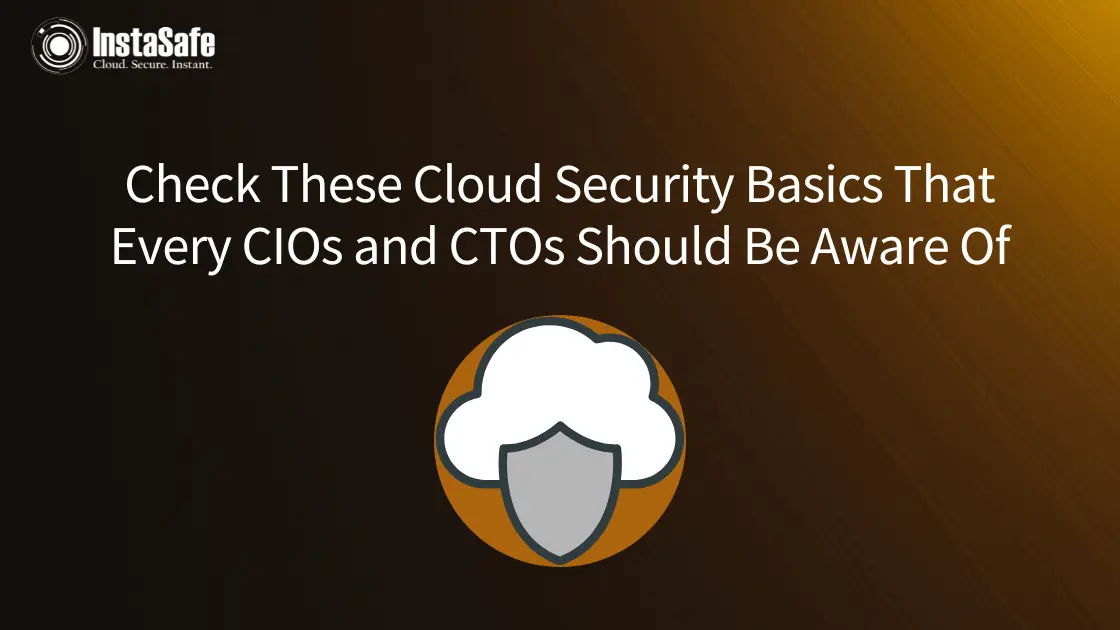 A 2020 survey of enterprise cloud computing challenges revealed that 83% of the companies find security in cloud computing environments to be the biggest challenge. After security, they consider managing costs, governance, and lack of expertise or talent to be the major challenges in the cloud environments.
With more and more companies across the world adopting cloud computing and cloud-based technologies, the job roles and responsibilities of CTOs and CIOs are becoming blurry as ever. The overall management of cloud services, subscriptions, and internal management are piled upon with many additional tasks.
Cloud Security Basics - Why CTOs and CIOs?
Ensuring data and information security at all times and matching the pace with the industry disruptions - there is much more to the job roles of CTOs and CIOs nowadays.
While having a CISO is an alternative for the business enterprises with a sizeable financial standing, for the SMEs and MSMEs it is not an option. However, enterprises of all types and all scales are using cloud services and cloud computing for the obvious benefits, such as:
Flexibility
Pay per feature model
Easy and efficient scalability
Fewer hardware expenses
But, adopting the innovative and emerging trends in cloud computing is as important as understanding the ins and outs of cloud security basics, and that too right from the start!
The recent cybersecurity attacks, such as the Kaseya ransomware attack has asserted the importance of understanding the cloud security basics even more!
If a security calamity befalls a business enterprise, the CTOs and CIOs are questioned as well, and their efficacy becomes questionable. Further, TechTrends 2020 report from Deloitte identifies Cloud and Cloud Security as macro forces in the near future.
Hence, CIOs and CTOs need to have a more thorough understanding of the cloud security basics.
Here, we discuss some of the basics in cloud security and security tips for cloud environments for CTOs and CIOs. Take a thorough read and find out what you must know about cloud security as a CTO or CIO.
Cloud Security Basics and Security Tips for CTOs and CIOs
Mere Basics Are No Longer Enough
With market competition getting fiercer with every passing day, and enterprise technologies making their foray into the modern business scene at a breakneck pace, the game is no longer about the basics!
You must have an in-depth understanding of the various service offerings from your vendor, how their products work, what are the limitations and sharing constraints, and how much control you have over the resource and data accessing.
Further, as enterprise security is a shared responsibility, consistent learning from your experiences and security incidents across the world is a must.
Manage the Interfaces Well
The interface of the cloud and your enterprise is the most vulnerable site for cyberattacks, as proved by the Kaseya ransomware attack, we mentioned above. It is not possible to read the minds of attackers while configuring the security of your enterprise. However, ensuring a definite understanding of what you can control and how you allow access to data and resources in a cloud environment is certainly possible.
While doing the security checks, or picking a cloud security tool or service, it is important to see how well it protects your cloud interface.
Misconfigurations Are as Bad as Poor Security
Misconfigurations and vulnerabilities are related on many levels. In fact, they invite the attackers, just like the security weaknesses. With the emerging vulnerability tracking and technological innovation, it has become easier to identify, locate and predict the vulnerabilities in cloud security.
Hence, as a CTO or CIO, you must gain visibility into the cloud environment and configurations to gain an in-depth understanding of your cloud security posture. Further, constant innovations are done by the vendor also expand the universe of potential misconfigurations. So, you have to keep a track of them as well.
Relying on Vendor for Security
Be it cloud security or security against cyber attacks, you should never rely on the vendor or any cloud service provider. You have to view every access to your enterprise's data or information or resources as a threat and validate it with stringent checks.
This doesn't mean that the cloud service providers and cloud security providers are not trustworthy.
This extra attention tip stems from the recent "Zero Trust Policy" that stresses the importance of trusting no one when it comes to security. Having Zero Trust in the vendor, the user, the incoming connection, and the channel or medium you use for accessing, using, and exporting the data and information arms you against the potential attackers.
Hence, you stay alert and prepared against security breaches, and can avoid them as well!
Cloud Is Not Inherently Secure
The Cloud might offer you a plethora of features, benefits, and functionalities, but the cloud environments are not inherently secure. And, this has been proved by many security tragedies. This is why most companies with strict data and information regulations tend to place and monitor their confidential resources and assets in their in-house data centres. They use the cloud for less critical data and workloads.
The conflict arises when the business owners hear and come to know about the considerable spending of the major brands like Google, and Microsoft on cloud security.
However, they forget that these giants are infrastructure creators and also offer application deployment platforms. Hence, security becomes an obvious concern for them.
Hence, using the cloud for confidential data and information with discretion and smartness is one of the best security tips for CIOs and CTOs.
Due Diligence and Cybersecurity Insurance
As mentioned earlier, due diligence is vital for ensuring security at all times, be it the vendor, cloud service, security solutions, or the incoming connections. As a CTO or CIO, you are solely responsible for doing your homework regarding the worth and reputation of the vendor and tools you are using for cloud services.
Also, never rely too much on cybersecurity insurance payouts. These payouts are not huge and might not even help you get yourself out of the tough situation. With the increasing number of ransomware attacks and security compromises, the insurance amounts are shrinking.
This is all the more critical reason for you to assume proactive responsibility for the security of your enterprise cloud systems.
How to Make Cloud Security Less of a Hurdle?
When it comes to securing your cloud system, you need a perfect arsenal of both - the human task force and technological tools. While reducing the talent gap might still be a financial strain for some businesses, when it comes to technology, there are many commendable, smart, reliable, and robust security solutions, like InstaSafe.
InstaSafe offers simplified cloud access and secures your cloud investments with its impenetrable set of security offerings. InstaSafe's Zero Trust Security Solutions come with a continuous risk assessment methodology and allows you to create role-based adaptive access controls. You have the ultimate control over everything and can provide secure and authenticated connections to your cloud applications.
It also offers visibility over all the cloud applications and facilitates the extension of on-premise security policies to the cloud.
InstaSafe is an all-in-one security solution for businesses of all types and all scales.
So, join hands with InstaSafe's Cloud Security and compile the best task force for establishing the best security for your enterprise cloud system.
Schedule a demo now, for more information!