Enterprise Security Predictions: How Zero Trust Can Enhance Remote Working Security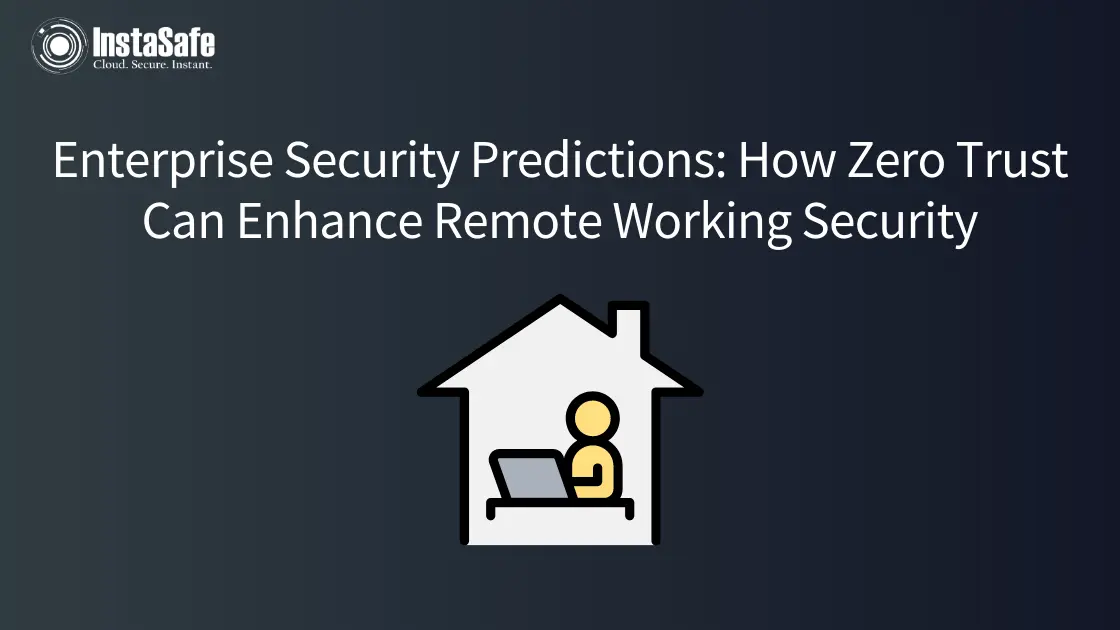 The COVID-19 outbreak pressurized businesses to adopt work-from-home regulations just as they were starting to adjust to a global workplace and introduce new trends. This shift has also demonstrated how cybercriminals could adapt their attacks to any situation.
Although zero trust was once a buzzword, it has gained traction in 2021 as it helps businesses to reduce risks and prevent unauthorised device access. To prevent cybercriminals from getting access, the Zero Trust principle states that neither connectivity is permitted unless a user authenticates himself, nor their interface is validated, and application availability is checked for that person.
Why is it necessary to have zero trust security?
According to surveys, 70-85% of businesses with remote working security staff intend to allow employees to work from home until their stay-at-home orders lapse. In fact, as per Gartner, 74% of businesses expect to see at least 5% of their employees who previously worked in the office, shift to work from home in the future. The zero trust network access, however, is about more than just managing certain jobs.
Here's why zero trust security is so critical right now, and how to put it into practice.
Zero trust is no longer optional
It's also no longer possible to shift security attention from the perimeter. Besides the challenges imposed mostly by coronavirus pandemic or the uncertainties about whether in-office work would be feasible on a regular basis, many businesses are considering moving workers out of the office to save money, minimise travel time, and encourage greater employee productivity.
There is a lot of emerging technology
Although just a couple of years ago, there was no proven technology for enforcing zero trust. The ability to control corporate resources and access certain assets at a detailed level has still not progressed to the point that massive deployments could be scaled.
As technology advances, it will be possible to rapidly and granularly analyse and evaluate user access to "reduce information exposure due to hacked accounts, hackers monitoring a network, and other risks," according to the NIST paper.
Expecting a single product or service to fix the problem is unrealistic
Zero trust necessitates the collaboration of a complicated structure in an auditable or verifiable manner. As per the NIST description, there are seven fundamental tenets:
Both data sources and computing facilities are designated as tools.
End-to-end encryption of all communication, regardless of location
Managing access rights as per each basis
Allowing protection and accessibility policies to adjust dynamic contextually, client state, or current risk perception
All properties are being monitored to ensure that they are in the safest possible condition.
Authentication and authorization are enforced in a temporary and complex manner.
Keeping an eye on the security of the whole system as well as the assets of the firm.

Identity and access control are the first essential steps
As per Verizon's 2020 Data Breach Investigations Study, the use of compromised credentials seems to be the root cause of several breaches; it's the second-most popular action of threat. Whereas, phishing is by far the most popular action of threat, and it often contributes to credential loss.
Almost any organisation that has experienced a data breach has installed virus protection, a firewall, or possibly an intrusion-prevention scheme.
Constantly verifying identification and authorization
It isn't enough to manage the basic authentication. Any time a user gets access to a new resource, businesses must re-authenticate it. Such tests shouldn't have to be invasive for advanced authentication technologies, but they should be dependent on context.
Security remains a difficult balance for businesses as they adapt to "the new reality." Choosing a zero trust model, on the other hand, will provide businesses with more flexibility throughout work arrangements, the safety of constant surveillance, as well as the ability to adjust to whatever the future brings.
The key factor to a good cybersecurity program is automation
In 2021, the broader trend would be early adopters of technology that uses machine learning and artificial intelligence to simplify security-related functions, despite the increasing cybersecurity skills shortage.
COVID-19 culminated in a huge transition to a global workplace all over the world.
Next year will usher in a radically new normal as more employees return to work and those who are unable to make the move stay at home.
Therefore, IT departments will be forced to address full-scale remote working security access requirements.
Rather than relying exclusively on security staff, the only alternative to being competitive in the cooperative world would be to use systems with automation capabilities.
To better analyze their workforce, businesses will shift to innovations like Zero Trust Network Access including Artificial Intelligence Markup Language (AIML) techniques.
Hackers will focus their attention on cloud services
Because of the increasing usage of cloud services, as well as the growth of mobile devices and laptops during COVID-19, unprotected cloud users would be a prime target. Many businesses use identification network access to protect themselves from security threats, however, the data is often left unencrypted.
We can anticipate hackers focus their efforts on cloud-based web applications or application programs. Such actions will place a great deal of pressure on data security teams, making it much more important for businesses to make sure their security policy doesn't have any loopholes.
Conclusion
Now that employees continue operating from home, businesses must accept the fact that even a company system can be used by more people apart from the employee. Other people including or a child or spouse, can unintentionally download malware or other forms of software malware onto a laptop, mobile, or tablet.
This is why businesses must implement a Zero Trust Network Access approach capable of managing internet workplaces by offering a centralised, cloud-based service that improves usability, performance, and risk mitigation.
This is where InstaSafe, the best cloud security vendor can help implement a zero trust security model that would be particularly relevant to your business. While we work to strengthen security strategy, the most important factor to address is getting the infrastructure in place for complete insight of remote working security of employees and operations.