Why do Businesses on the cloud need Zero Trust Security?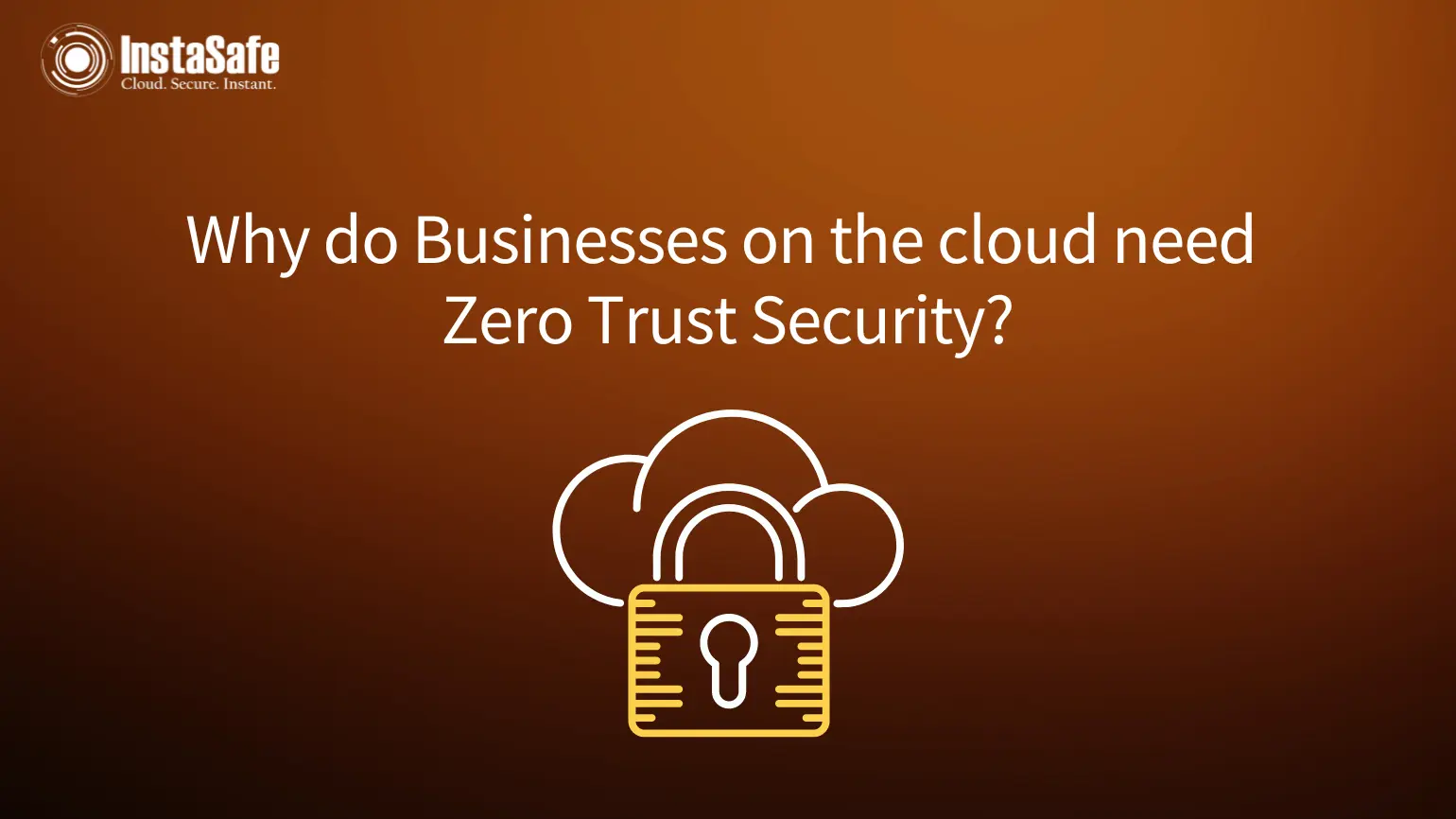 While the inter-connectivity of businesses, networks, and companies is increasing at a break-neck pace, the reliability and security of this intensely connected system are under constant scanner.
Stats report that every 14 seconds, a business organization falls victim to cyber-attacks and the picture gets murkier with every episode like Kaseya Ransomware, happening.
In fact, the Kaseya Ransomware attack is just the tip of the iceberg, with attacks such as NotPateya, BadRabbit, and WannaCry rocking the world of cloud computing and cloud security, earlier.
While every attack had taught companies across the world a bitter lesson, it was not until the recent cyberattacks, that the term "Zero Trust" started making rounds on the internet.
Here, we explore the term, and how having a zero-trust policy must be the topmost business agenda for all the businesses on the cloud.
Let us begin with an introduction to the term.
What is the Zero-Trust Policy and Zero-Trust Cloud?
Zero Trust is a security approach that aims at securing and safeguarding confidential company data and information while using third-party services. Hence, a company is able to put a shield between its sensitive information and the third-party service provider while staying compliant with the new policy regulations.
As the companies are able to use third-party services like the cloud, without giving up control of their data, they are more secure against the data breaches happening at the interface. Further, the companies can regulate the access to systems, data, and company networks in a more stringent manner.
Hence, the Zero Trust policy authenticates every incoming connection or user trying to gain access to the company's resources and data.
Similarly, a Zero Trust Cloud refers to a cloud system established on the principles of the Trust Security Model, which we explain in the next section.
What Are the Core Principles of the Zero Trust Approach?
The National Institute of Standards & Technology (NIST) has laid down the core principles of zero-trust architecture, which are as follows:
All the data sources and computing services of a company are considered resources. The network location does not imply trust and all the communication is to be secured regardless of network location.
Before allowing access to individual enterprise resources, the incoming request is evaluated on a per-connection basis. Further, this access is granted on a per-connection basis as well and is determined by the security policies.
The security policies include a number of factors, ranging from the observable state of the requesting system, user identity, and behavioral attributes.
The enterprise must ensure that all owned and associated systems are always under maximum protection.
User authentication must be enforced strictly and must be dynamic.
So, the Zero Trust Cloud has a constant cycle encompassing:
Access
Scanning
Assessing threats
Adapting
Continually authenticating
What Are the Benefits of the Zero Trust Policy?
There are a number of security and business benefits of the Zero Trust Policy.
Protection of Customer Data and Business Value
Customers are the biggest asset of a business, and customer data is like WATER, without which you cannot steer your business towards sustained growth.
Any malware making its way through your customers' firewall can exfiltrate customer data to a CnC server outside the network. This can make the customer data fall into wrong hands and cause serious ramifications to them, and, in turn, to your business.
Some of the most consequential impacts include the following:
Disruption for customers
Business and brand reputation damage
Loss of intellectual property, such as strategic plans, blueprints, and codes, etc.
Financial ramifications, such as lawsuits, investing in a new security service provider, and installation of more security layers.
Visibility Into the Enterprise Traffic
The Zero Trust policy clearly revokes trust in the location of a network. Hence, a network, unless authenticated and validated to be fair, is assumed hostile, which means that the entire paradigm shifts from "trust but verify" to "always verify and never trust".
As verification comes with complete visibility into the company's traffic and its sources, your security administrators can easily monitor the activities of all the users, data, and devices.
Security Stack Is No Longer Complex
When you implement enterprise security with legacy technologies, it is highly complex and more expensive, because of:
Virtual or hardware appliances for controlling access, such as VPN appliances, identity providers, and multi-factor authentication (MFA)
Security mechanisms
Application delivery
Performance utilities for application performance optimization and load balancing
As all these stacks must be repeated for high availability in a global setting, you have to purchase, install, configure, and deploy all these components. This is to be done for each data center located in different places.
All these system components have to be managed, tracked and monitored by the security admins as well.
However, a Zero Trust Cloud bypasses all this complexity as it shifts all these functions just like a cloud-services approach.
Bridges the Skill Gap in the Security Sector
There is always a gap between the required skills and available talent in the security sector. While the threats and vulnerabilities are becoming more sophisticated, more targeted, and comes in an ever-increasing variety, traditional security systems continue to fail. The most probable answer seems to be a tremendous influx of human and technological resources also translates to higher costs, which might not be possible for every business.
However, the Zero Trust Cloud allows businesses to enjoy the benefits of security without the complexity and without such heavy investment into resources.
Security and Experience Go Hand-in-Hand
Lots of security checks translate into a slow and dull user experience that is one of the biggest off-putting things for the customers. However, the Zero Trust solutions offer ease of use, secure access, and higher productivity, without much ado. As all the checks are done at the company's side, the customer doesn't have to remember the complex passwords or submit captcha, etc for a higher degree of authentication.
Facilitating Digitization, Cloud Migration, and Technological Transformation
As organizations are able to use the highly secure services along with the other cloud benefits, they find it easier to migrate towards better technological advancements. They find cloud-based zero trust architecture a single point of control and validation for offering SSO capabilities to their users.
All of this nudges them towards digitization and cloud adoption.
Why Companies on Cloud Need Zero Trust Security?
Flexibility and cost-efficiency aside, a cloud system is a mix of technology that creates a fragmented security architecture and makes the interface between the company and the cloud highly vulnerable to attacks. The companies are not sure what policies can protect their data in the cloud and might not even detect the malware or vulnerability until it has transformed into a threat or even worse!
A Zero Trust policy is both, comprehensive and adaptable, which makes it definitely a better and more reliable security approach.
InstaSafe – the Perfect First Step Towards Futuristic Security
The modern business landscape is teeming with industry disruption and security concerns. Amid such confusion regarding the best security policy, it is vital to invest in security solutions like InstaSafe that can not only measure your readiness for the Zero Trust Security but also help you make an excellent transition into the same.
It allows you seamless access control over all your apps with its smart and reliable Zero Trust Secure Access, and ensures maximum data security at all times!
For more information and for taking the first step towards Zero Trust Security, schedule a product demo now!