5 Key Principles of the NIST Zero Trust Architecture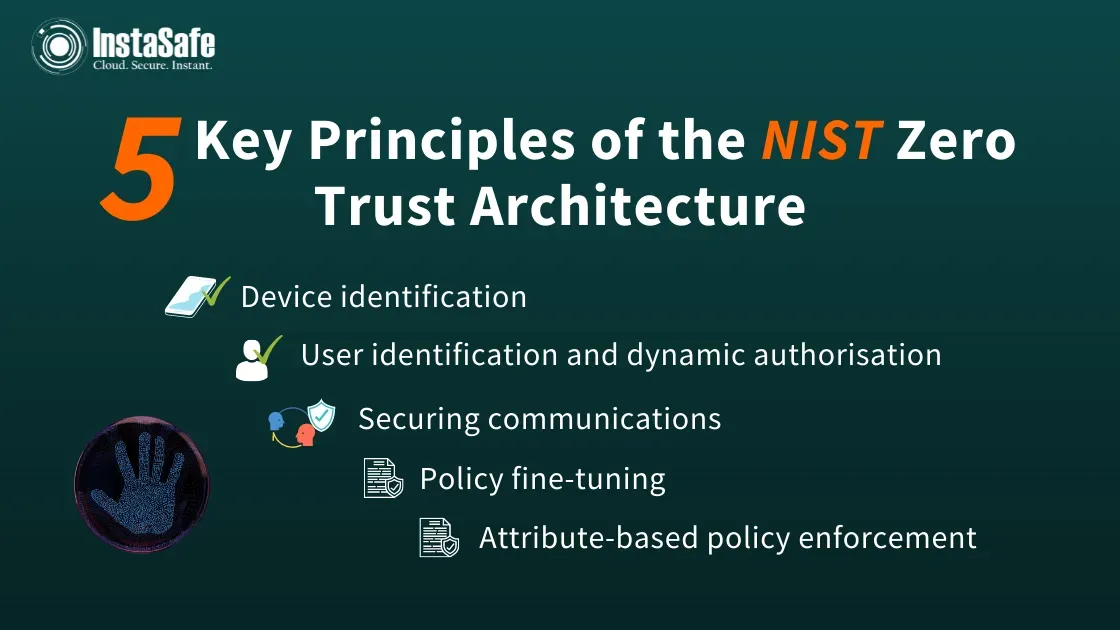 The consistently growing risks and costs of cyber-criminal activities force companies and organisations to find and adapt to new and innovative strategies to combat the online security risks.
Hence, the National Institute of Standards and Technology (NIST) proposes an excellent cybersecurity framework—the Zero Trust Network Architecture (ZTNA) model. The NIST framework of Zero Trust has evolved with time into an architectural framework to implement and scale complex enterprise networks securely.
Thus, the NIST cybersecurity framework enables organisations to efficiently tackle modern cybersecurity attacks, data breaches, instructions, and malware threats.
This article will learn more about the ZTNA framework and understand its five key principles in detail. Let's go!
What Is Zero Trust Network Access?
Zero Trust Network Access (ZTNA) works on the principle of 'Never Trust, Always Verify'—restricting network and resource access to unauthorised and unauthenticated users. Thus, users can access the specific network resource—only after going through and passing the authentication and authorisation processes.
Before the ZTNA model, all the security models were based on a perimeter-based security solution—providing implicit trust to all the users within the network. Thus, once users get inside the network, they are considered trusted entities—increasing the attack surface and vulnerability points and making it easier for malicious users to exploit the network resources and perform data breaches.
On the contrary, the Zero Trust Architecture by NIST reduces the attack surface and ensures maximum data and network security. Furthermore, it doesn't assume any level of implicit trust for user devices and accounts—whether the assets are personal or company-owned.
With that out of the way, let's look at the key tenets and principles of the NIST Zero Trust Network Security Architecture.
5 Key NIST Zero Trust Security Framework Principles
To ensure a secure and successful Zero Trust Network model implementation within your company network, you must consider a few basic yet highly important NIST principles.
Here are the five major principles of the NIST Zero Trust Network Access framework.
Device identification
It's important to consider all the computing services and data sources as resources to implement the Zero Trust Network Security successfully.
These services may include complete's enterprise-owned devices that share data and files with the aggregators, Software as a Service (SaaS) tools and applications, and other endpoints that connect and communicate with your enterprise network.
Device identification with ZTNA will enable you to allow only authorised and authenticated devices to grant access and permission to the network resources.
User identification and dynamic authorisation
The user account or profile is based on their private security credentials and the devices they use to access the network. Hence, granting user access, network scanning, and assessing security threats must be a continuous and ongoing process.
You need to implement Multi-Factor Authentication (MFA), asset management, and continuous network monitoring to make sure reauthorisation and reauthentication are based on defined policies.
Securing communications
It's critical to ensure that all the access requests from different assets and devices meet security requirements. The assets can be either located on the external network or the enterprise-owned network infrastructure—it's important to implement the same security verification and authentication.
Implicit trust in users and assets results in severe security risks and repercussions.
Policy fine-tuning
Companies must collect as much data and information as possible about the current state of the network and user communications and use this information to improve their security posture and policies.
The insights you get from this data allow you to create new security policies—while fine-tuning the existing security policies and enforcing proactive security protection.
Attribute-based policy enforcement
The policy comprises a set of network and resource access rules based on attributes assigned by the organisation to a user, application, or data asset.
Examples of these attributes include device characteristics like location, software version, model, and access request time. In addition, you can also consider behavioural attributes defined by the device and user analytics based on the resource's sensitivity.
Conclusion
The Zero Trust Network model with NIST architecture helps organisations and global enterprises meet their modern security requirements and successfully fight the security challenges.
It enables continuous risk assessment, ensures data security, authorises devices and IP addresses, and facilitates scalability and management.
Check out our InstaSafe Zero Trust Network Access solution to ensure maximum network security, minimise the attack surface, and strengthen your network security framework across your enterprise network. Book a demo for free to learn more.