Value of SASE in the Modern Network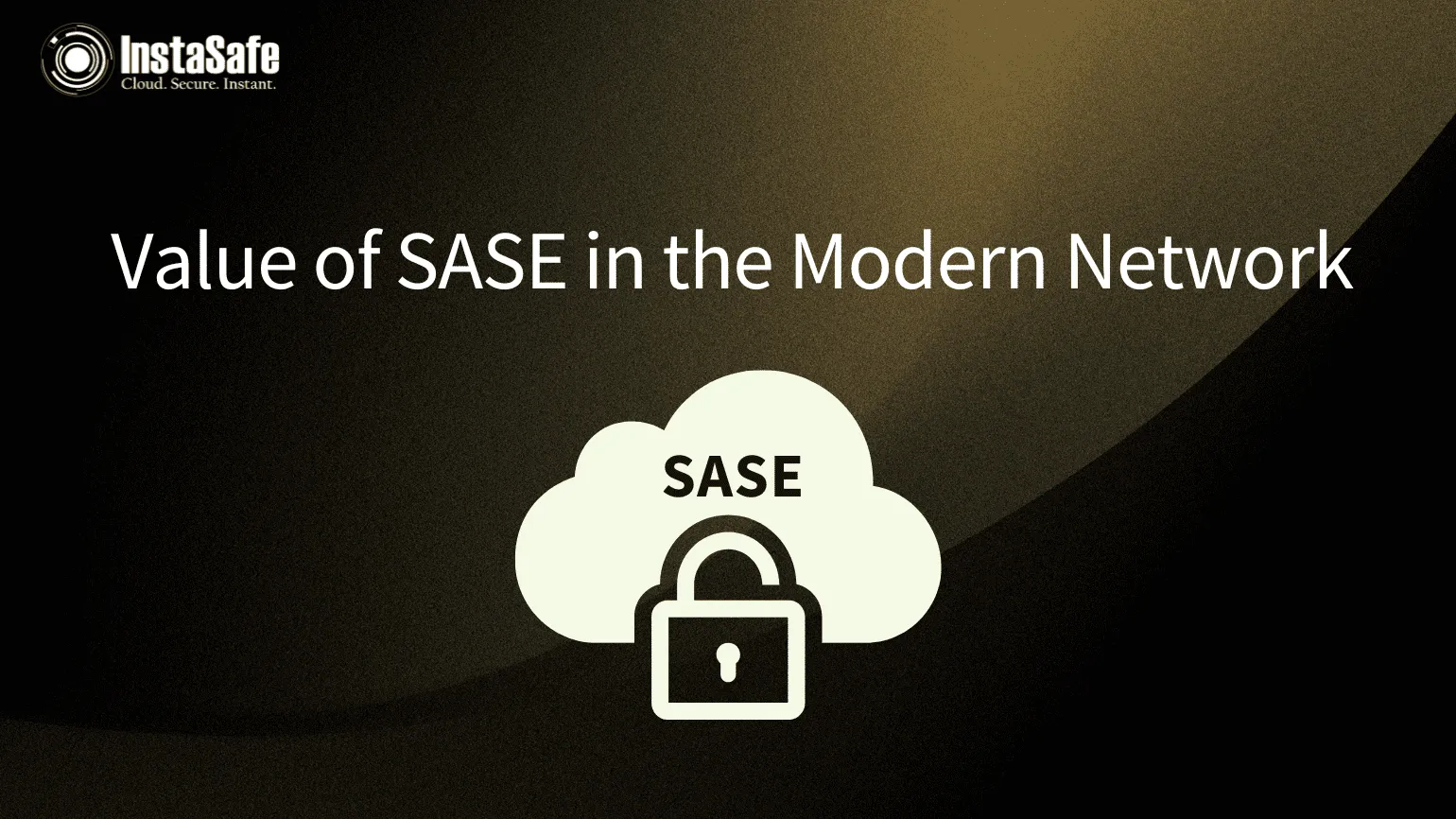 Worldwide concern for the corporate web is at an all-time high. Cybersecurity has become a necessity for businesses in every sector. With the rise of digital transformation, the world has been revolutionized in the last decade.
Data breaches have got both businesses and consumers investing heavily in cybersecurity; unfortunately, such technology alone cannot suffice.
Experts recommend businesses adopt a cybersecurity model that offers impenetrable network security for modern companies.
Enter SASE.
What is SASE?
SASE stands for Secure Access Service Edge. It combines the edicts of cybersecurity models such as Zero Trust, FWaaS (Firewall-as-a-Service), and CASB (Cloud Access Security Brokers) to propose a unified cybersecurity service for businesses to adopt, via:
·        Identity-based connectivity
·        Contextual connectivity
·        Connectivity security compliance
·        Continuous connectivity risk assessment
Modern businesses are dependent on cloud-integrated data processes for both internal and external operations. To avoid data siloing challenges, a lot of them also invest in central data repositories. A survey reveals that IoT devices alone are expected to birth 73.1 zettabytes of data by 2025.
This estimate does not include SaaS data, real-time user requests, BI on the market, and enterprise management.
Businesses house a good portion of the app and user data on on-premises infrastructure, protected by expensive security software, but ridden with inefficient security protocols.
Secure Access Service Edge hopes to fortify business networks in these aspects, as cloud computing, remote productivity, etc., become commonplace.
The SASE model has been built to better equip these data repositories and the business network traffic from cyberattacks that disrupt businesses and cost billions to mitigate.
SASE was created bearing in mind modern cyber-intrusion tactics, including socially engineered cyber-attacks and other threats such as phishing, generic malware attacks, DDOS attacks, phishing, etc.
SASE implements Secure Web Gateways (SWGs) with better visibility (entity identity management, real-time context) and cloud control (security compliance, speed, flexibility, and continuous risk assessment) than traditional enterprise network security.
SASE's Value Addition to Business Clouds
Many businesses are yet to discover SASE's policies and the various ways to implement them. It benefits entrepreneurs and CTOs to appraise SASE's value before adding it to their digital security strategy.
Inculcating the SASE philosophy
SASE is based on the concept of cloud-integrated networking. The architecture stresses the authentication and authorization of the users and devices connected to the business's SD-WAN (Software-Defined Wide Area Network) and subsequent security adherence.
Implementing these steps requires the use of emerging technologies that can protect the modern, burgeoning network perimeters.
SASE safeguards the data-first approach with a model that can be implemented incrementally. This enables businesses to realize cost controls without compromising data and network security.
SASE is rigged to ensure zero compromise on the user's experience and service performance. As your business onboards each SASE element, your enterprise web security matures into the SASE philosophy.
Secure remote productivity
Online scams have increased by 400% during the pandemic. Corporates mobilized work-from-home scenarios for their workforces without prior awareness; a lack of preventive practices have further catalysed this number.
Hence, modern business network security must account for these unscrutinised network entry points. The SASE model cracks down on lackadaisical employee activity w.r.t. the business web.
SASE boosts productivity by permitting employees to connect from anywhere without raising concerns for security or increasing operating costs.
This is where SASE employs FWaaS and ZTNA. The policy guarantees network access is only provided to recognized identities (be it the user, the device, or the IP).
It also guarantees that your employees and cohort vendors are productive and safe while accessing your network.
Data security and the Cloud
Cloud integration is synonymous with SASE. SASE is the cross-disciplinary streamlining of enterprise networks components and their security objectives.
By cloud integration within your business network, you can use threat prevention, filtering, sandboxing, DNS protection, identity theft prevention, data loss mitigation, and advanced FWaaS policies.
The cloud mobilizes data operations with speed in real-time scenarios. For example, employees remotely fulfil duties from unidentified devices over networks without rendering the whole network vulnerable.
Hence, any business that hopes to implement the same must first transition its enterprise web and data processes to the cloud.
As businesses scale, so does their data. Leveraging the expertise of a CASB can help counter new threats at this juncture.
CASB integration brings your enterprise one step closer to implementing end-to-end SASE. Cloud data security allows your business to scale in an agile fashion, without inherent security costs and urgency getting in the way of the enterprise goals and budgets.
Cyber-security threat mitigation
There are various data security laws that businesses must abide by for user-personified data. One of the most significant data breaches in recent history is Yahoo's systems, which breached 3 billion accounts. Hence, businesses must end up paying hefty amounts to retrieve the data and restore continuity and damages.
SASE adoption puts your business on a path where similar attacks are mitigated, and potential breach costs are curbed. It's already established how SASE aims to reduce threats to security without hampering network accessibility.
Data loss prevention also ensures you have visibility and pre-emptive control over who gets to connect and what data they can access.
Mitigating threats is also about educating and teaching sanitary web practices to your workforce. By adopting this at the grassroots level, businesses can more rapidly scale without incurring security concerns and disruptions blocking productivity.
Custom SASE solutions for your business can help reduce millions and billions in losses down the line.
Streamlined network perimeter surveillance
Connectivity is another aspect that SASE addresses in conjunction with accessibility concerns. Maintaining continuous connectivity with employees becomes difficult in a scenario where:
Employees are not on the enterprise connection
Employees can transfer malware residing on their network or system to the enterprise network, thereby initiating the attack
SASE comprises FWaaS integration as a standalone service or a part of your cloud suite. They employ next-generation firewalls that natively integrate the business network with an SD-WAN.
The SD-WAN monitors security even in remote connectivity scenarios where employees use third-party networks or devices.
Thus, businesses can continue working in remote productivity or with a hybrid workforce comprising on and off-premises teams in synergy.
They can also entertain various applications, devices, and user groups. Again, this pans out quite well for agile business scalability.
Enforce security policies with simplicity
When a business enforces a security policy that is too complex to streamline into continuous productivity, it defeats the very purpose for which the policy is devised.
Concerns of security accompany every business venture. Hence, businesses must opt for a model that manifests a cost-efficient security solution.
A simple cyber-security strategy renders easy detection of infiltration patterns and exfiltration attempts. Your business can maintain continuity without losing productivity to instructions or flagged network components by targeting these pain points.
Thus, SASE is not about making it more difficult to network but rather achieving traffic fluidity without pausing for security concerns.
Conclusion
The final tenet hammers how SASE addresses its components and best practices to deliver an agile, flexible, and secure business web. There are multiple premium SASE vendors in the market.
But they are in breakneck competition to offer cutting-edge technology with componential technologies that are still being tested for various business use cases.
A survey states that about 40% of businesses are already laying the groundwork for a SASE-reflective security strategy. But teams must brainstorm which SASE solution complements their cybersecurity requirements and meets ROI expectations before deciding.