Improvise Your Cybersecurity Checklist with SASE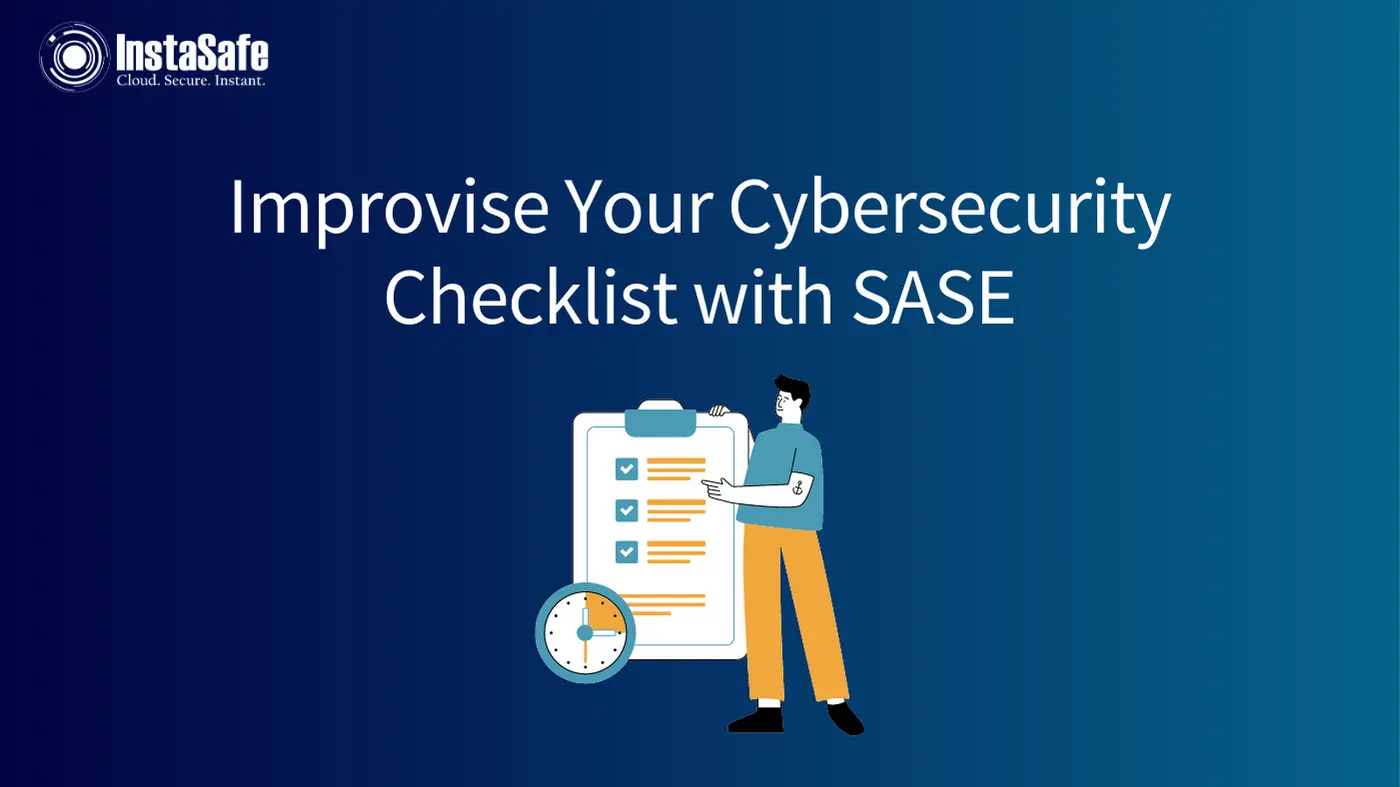 Introduction
In this digitally-focused world, protecting your data becomes an important aspect for any individual or company. With cybersecurity threats and hacking cases on the rise, it has become more important than ever for companies to improvise their cybersecurity checklist. But mere improvisation is not enough. We need a strong framework like Secure Access Service Edge (SASE), which is a framework identified by Gartner.
After the introduction of the new Cybersecurity Maturity Model Certification (CMMC) program in 2020, many organizations working on DOD faced trouble. People didn't know earlier that due to this program, we are keeping our stakes at a higher level.
Recent Cyber Attacks and Breaches
In the state-sponsored SolarWinds attack, networks of many governments and private sector companies were compromised. Due to the attack, at least nine federal agencies and their services have been affected. In this attack, hackers infiltrated the SolarWinds Orion Software, which is a popular IT platform to manage the complete IT services and processes in one place.
Another recent cybersecurity attack was the Colonial Pipeline ransomware attack. The attack was so powerful that it shut down a major pipeline in the U.S. that supplies fuel to several parts of the country. Because of this attack, many gas stations run dry for a few days.
CMMC came into the picture to protect DOD from such hackers and threats. By providing the highest security standard to its contractors and holding them accountable, we try to reduce the risk of such threats. Further, they build systems and touch-sensitive DoD information called controlled unclassified information (CUI) for which they were held accountable.
According to a recent report published by Zscalar, as many as 1,500 organizations have shown startling vulnerability levels, especially in public clouds. The company analyzed the attack surface of these organizations.
Safeguard your Systems and Processes with SASE
Improvising your cybersecurity checklist with SASE means you will be safeguarding all your computer networks and systems from serious threats. Defence contractors may consider the network-centric method of cybersecurity as the best way to meet CMMC standards. As per their requirements, an organization may define the CMMC level and work under that.
But they should meet the standards at every touchpoint. Be it admin console, VPN connection, firewall appliance, DLP software, or routers, and sandbox environment, everything should be kept in place and approved to achieve the CMMC standards.
Now, as the organization starts growing, its processes and networks also become huge. If we add more devices to the organization, it means the inspection team has to go through them. Due to this, administrative overhead may increase and it will affect the user experience. Further, the contract may be taken a setback. So, we can conclude that this network-based approach only increases time and cost, and also prohibits an organization from growing.
As the world is becoming more digitally accessible, hackers are also getting smarter. They're using the most sophisticated software to infiltrate the highly secured systems and networks to gain access to sensitive data. Therefore, it is essential to ensure the cybersecurity checklist with technologies like SASE.
According to an analysis done by UK-based agency CybSafe, 90% of breaches are caused by human error. A similar report from Kaspersky Lab says that cases reported on security incidents in public cloud infrastructure are mostly caused due to "customer's employees" instead of the service providers. So, it is clear that we need a more robust and highly secured infrastructure to protect our systems and networks.
Some of the top cybersecurity checklists include:
Strong Password Policy
Use Equipment Tracking
Implement Automatic Screen Lock
Antivirus Updates
Minimize Administrator Privileges
Eduate Employees
Update IT Policies
Email Awarenss Training Program
Cybersecurity Insurance, and more
The list of cybersecurity checklists can be longer depending upon the size of the organization. Therefore, organizations should have a different approach for different policies.
They must change their security model approach from analyzing the environment as an architecture built to a user-centric approach. Under this approach, the priority of the organization should be to protect the data, which is a crucial thing for any business.
Challenges faced while Adopting the SASE Framework
If we talk about security from the point of view of data levels, we will see that networks will turn into transient pathways. It is further protected by service over the network that acts as a layer. No matter applications are loaded to an on-prem data centre or a cloud service; there is secure access that occurs to the system.
Although it is not easy to transform the approach in an organization with a vast and diverse workforce, some efforts should be made to minimize the risk of threats.
Organizations that are willing to transform the approach can utilize technology like Secure Access Service Edge (SASE).
It is a framework designed by Gartner to let employees and their systems securely work over the internet remotely.
No matter in which part of the world an employee is located, he/she can securely connect with the devices and applications.
Following the organization's internal rules, a SASE technology smartly allows or denies access to a specific application or service.
So, the technology can act as a blessing in disguise for companies looking to prevent and protect themselves from unwanted breaches.
If we look into the SASE framework from the point of view of CMMC compliance, we will notice that the technology removes all kinds of complexities and makes the organization move quickly. And as the organization moves quickly, it can compete with other players in the market.
The accreditation team has to undergo several interfaces, which are now reduced. If we leverage the FEDRAMP solution in our organization, we won't need the entire security stack. There will be only one cloud-based interface, which the compliance inspectors will be using. It is used to authenticate and protect the users' data in the organization.
Importance of SASE in Cybersecurity Checklist
Companies need to up their cybersecurity game by adopting the most secure systems and applications to protect their data. With the advancement in technology, hackers and criminals are leveraging them to use them against society. The use of cryptocurrency, VPN, etc. has masked the identity of these hackers and has given them an edge over the law enforcement people.
The use of SASE can be beneficial to all sorts of businesses, whether small or big.
As it is a standalone service, all the services and processes can be protected from one source. So, it reduces the complexity and cost.
Using the SASE technologies, enterprises don't have to bother about the heavy usage of hardware systems in branch offices.
Not only this, but it also helps in decreasing the number of agents on the end-user device.
For those unaware, the SASE technology works equally for all users no matter where they're located. It is a zero-trust networking technology that bases access on the user, application, and device. Many IT and tracking software available in the cybersecurity market is based on IP address and location.
Conclusion
While evaluating whether the SASE system implements well in the organization, the administrator should review network management components as well as security management components.
These include path selection, site-to-site connectivity, secure-web gateway, data loss prevention, and many more. These are crucial components for any business.
Whether you're a big or small organization, it is important to deploy software or systems that can safeguard your data and protect it from unwanted breaches.
InstaSafe is a cybersecurity firm that offers cutting-edge security solutions and products to prevent your business from unwanted breaches. Though 100-per cent protection is not possible for any kind of software, it can potentially reduce the risk of data infiltration and cyber threats