The What, How, When of Remote Workforce Security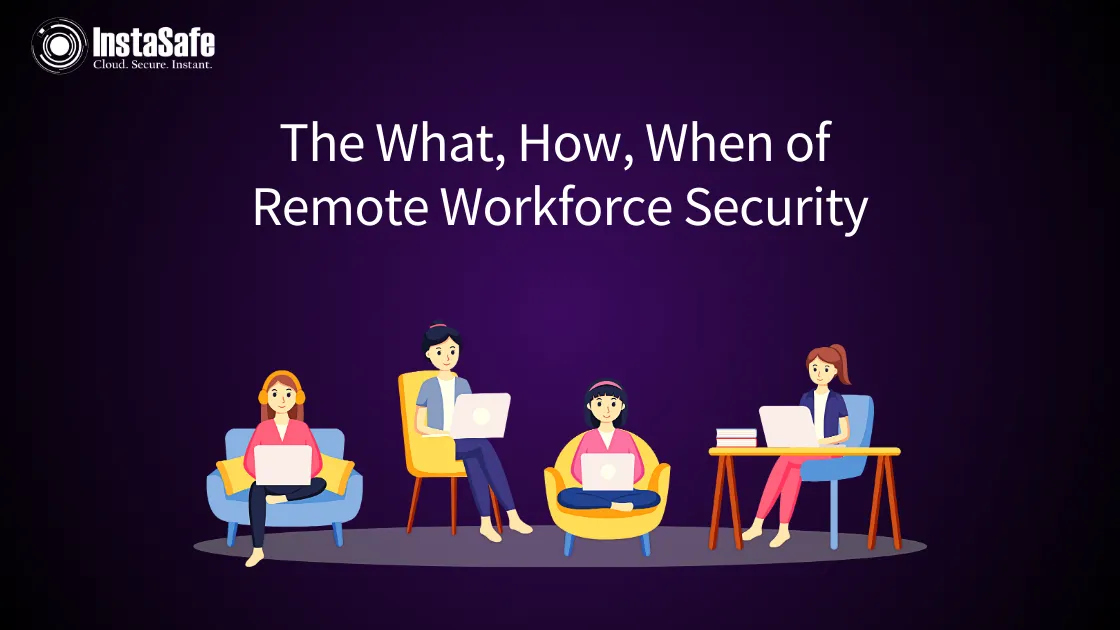 The outbreak of the global pandemic has brought a major shift in lifestyle and working behaviour of individuals. From work to personal lives, from corporate events to family events— everything has gone virtual. Bringing some long-lasting changes with no near endings thus, it has now become necessary to Secure Remote Workforce with long-term plans.
As per Gartner, 16% of employers are using advanced technology to monitor employee performance with the help of virtual clock in and clock out, tracking work hours, monitoring team communications through internal email and chats. However, some studies prove that remote access to work is better than a daily visit to the office for desk jobs. In fact, it is predicted that remote work will rise by as much as 300% in the coming years.
Since recent times, the remote workforce has become a regular part of a company's work, allowing for more talented employees and varied sources across the globe. The benefits of work with remote access are in parallel with the security threats it brings. It's a big, challenging headache and also a primary concern to secure remote workforce with the advancing technologies.
Why Remote Workforce Security?
With the advent of Covid-19, the security system is seen to relax and facilitate the working of the remote workers, giving a perfect opportunity to the attackers. Old tricks are revised and are used to make benefits of the loopholes arising. Following are the most common threats and scams observed in the remote working systems today:
Classic Phone and Email Scams
Remote workers become more vulnerable to these scams due to their need to download new software and apps and their subsequent rush to work on them. This rush results in less apprehension and ignorance of requirements of passwords or OTP codes. Verification is the justifiable reason to convince anyone to provide these details. The best way to avoid these is to go by certified information and proceed with caution.
Malware and Phishing
It has become too easy today to get people to open links. Along with threat against coronavirus, branding and advertisements have become alluring these days. Forcing people to open these links and download malware. Wrong online meeting links also lead to phishing attacks.
Fake Login Screens
Most of the remote workers are new to the online platforms and working systems, making them prone to fake login screens and links which makes them defenceless.
Filling the required details on a fake login screen can give access to your ID to any attacker who can then gain access to the company information and data very easily.
VPN Connection
One of the steps taken by most of the companies to smoothen the operations of remote working is losing the restrictions on VPN connectivity. Making VPN attacks easier than ever before. Attackers try stuffing in the brute attack, which if worked as per their plan, gives them unlimited access to the data.
Home Wi-Fi Networks
It's commonly known that home networks are not safe and even the ones with passwords can be cracked easily, enabling the attacker to enter your network. Attackers have seen targeting individuals with remote access and network traffic. Home networks easily get compromised by viruses before we can know about them.
Steps to Secure Remote Workforce
Following are some crucial steps a company needs to take to secure remote access from attackers and secure their employees from virus and hackers. These include securing not only company networks but home networks too.
Multi-Factor Authentication
The users who are accessing critical and sensitive information pages are required to install MFA (Multi-Factor Authentication). It is suggested to try this with a small network before rolling it broadly for your target audience.
Use of Secure Application Gateway
For security issues with the VPNs, use an application gateway. It's known to provide and offer better security by being the proxy for the employee's computer and protecting it from behind. This makes it visible to you what's happening with the computers, apps being used, and everything happening far away in your house/office.
Virtual Desktop Environment
Traditionally VPNs have served as a method to secure remote access but today in 2020, it's likely for the industries and their employees to use online apps for their use through VPN. Very few apps are such that can be accessed securely over the net. In such cases, go with testing and bolstering the virtual desktop environment. Or instead, make use of Zero Trust Network Access in place of vulnerable VPN connections.
Tracking Anomalous Users
Set alarms and warnings for anomalous user's remote access by tracking their identities and working patterns. Prioritize monitoring events like simultaneous use of IDs at more than one geographical location and device or multiple logins and take corresponding actions after that.
Force HTTPS
Ensure the use of HTTPS everywhere in chrome. This will take care that all the web browsing you do is done securely. If not the chrome extension, you can do it manually too by forcing the use of HTTPS in every site.
Home Security Awareness
Provide your staff with tips and tricks about remote workforce security over home networks. Ensure their computers have secure DNS programs and they should ensure endpoint protection. Inform them about router settings and security settings. Ask them to update their wi-fi passwords within a year or so. Keep guiding your employees with the best home solutions and keep them up to date.
Be Aware of Phishing
Warn your employees to stay away from coronavirus related advertisements, emails, or any social posts. Most of these are spam and intent to prey on users. They can ask for bank credentials for orders, information for logins, bank transfers for winners, etc. Stay away from clicking on any such link or email.
Coronavirus may have a vaccine as its cure that can eradicate it from the roots, but it needs constant check-ups and updates to keep the security threats away. The new definition of "workplace" will no doubt remain with us for a long time now and it's better we adapt ourselves and our system according to it. Thus, the ones who manage can protect themselves against these security threats and can keep their websites safe will be the ones growing smoothly in the future.
We here at Instasafe are on a mission to enable the most perfect and Secure Remote Access, by offering the most robust and powerful cybersecurity services that can shield your remote workforce facility effectively.
Browse through our website today to know more about our remote workforce security services.