The Need for Human Centric Security for Enterprises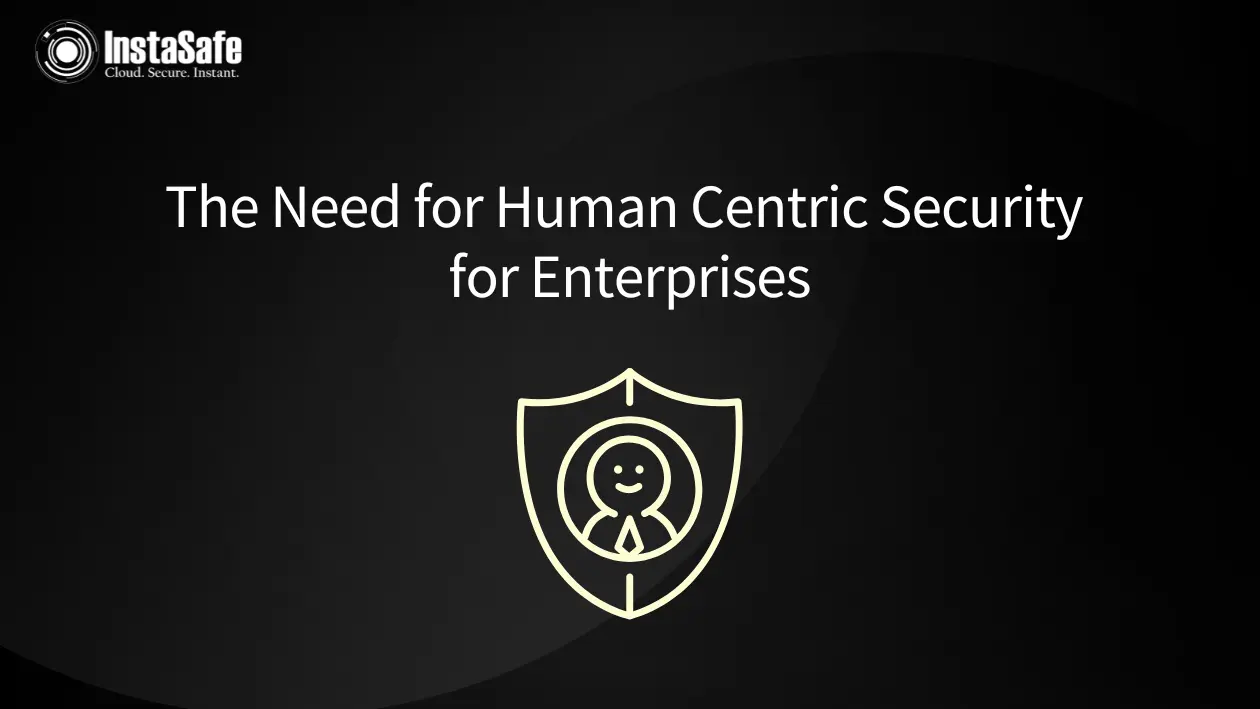 Many organizations rely on technology-centric approaches to secure the work profiles for all employees and remote employees. These approaches can monitor system tools and offer various cybersecurity solutions.
However, organizations have limited control, which means they can't change the behaviour of their employees and completely secure their work ethics. Thus, there is an imminent need to engage employees; in order to do so, a human-centric approach is the need of the hour.
After all, human threats to cybersecurity require human solutions, coupled with a level of applied science to human performance. A people-centric approach to security will need organizations to treat their workers like a cyber shield rather than a vulnerability.
Let's first understand why companies fail to offer a human-centric security approach.
What is the focus of a business?
According to a recent survey, it was discovered that enterprises only spend one-third of their budget on a behavioural or cultural change program. This means that businesses are either focused on satisfying the needs of their customers or not engaged enough in making behavioural changes.
Lack of Information
Identity-centric security for enterprises depends on many factors. Some internal factors include cultural attitude, psychology, competence, and motivation.
Many employees are not even aware of the types of risks they are exposed to with respect to security breaches. The influence of senior leaders also plays a vital role as they must set an example for the workforce.
How to develop human-centric security awareness?
It is vital to implement a robust security awareness foundation. There are many steps involved in executing this process effectively.
Behavioural Baseline
Before you plan any program to increase identity-centric security, it's essential to understand where you stand. Establishing a behavioural baseline helps identify the weak spots in the network and then accordingly plan a program to work on plugging the issues.
To start with, organizations can first collect evidence of security behaviour from quantitative and qualitative sources. Technologies like historical datasets and behaviour analytics are used to collect quantitative data. This data is used to evaluate the security posture within the company.
For qualitative sources, many organizations prefer behavioural responses and focus groups activities on measuring the status.
Good Read: Secure Remote Access for Employees
Security Initiatives
Now that the baseline is ready, firms must focus on an action plan to implement security initiatives after the data is collected. Running an organization can be a dreadful task in itself.
Many employees in a big organization feel scared to raise complaints or concerns to the higher management. To implement security initiatives, these are the basic guidelines firms must work upon. It's important to create an environment of emotional security for employees so that they feel safe in taking up concerns with HR and the higher management.
Companies can develop their cultural benefits and human psychology to make them feel valued without fear of reprisal. Sometimes employees act negligently because of the culture of 'shame & blame'. They fear reporting any security-related incidents or breaches, with the prevalent 'fear of judgment' method.
It is a significant step for the company to establish proper and trusting communications among the employees and management to tailor an appropriate response. This will help improve the engagement of employees at the office. Additionally, regular and remote employees will feel comfortable talking openly about security breaches.
Companies can define their employee categories from low-risk to high-risk, with an intention to manage the effectiveness of security improvement. However, in different aspects, companies must adapt to emotional engagement techniques with their employees.
This might sound like the responsibility of a Human Resource generalist. On the contrary, simulation exercises will bring your employees closer rather than mundane activities in the office. When your employees are safe, the effectiveness of human-centric security is achieved.
Secure behavior
Employees fail to report an unusual security threat due to a lack of tools and systems. Many tools are unable to manage various threats effectively.
In a majority of cases, employees do not realize they have leaked any sensitive information until it's too late. The higher management must work on these tools or at least promote internal awareness regularly.
You can make specific changes in your tools, especially if any such incident has happened in the past. Otherwise, regular engagement can help enforce security with policies, procedures, and practices amongst employees.
This is called a secure behaviour approach that must be implemented at workplaces. It helps in shaping positive behaviour without questioning the ethical attributes of an employee.
Many companies are working remotely in 2021; however, this has led to a rapid increase in phishing emails, which are becoming a growing security concern. Proper security behaviour in such cases is a basic necessity for employers.
Organizations can design different policies and protocols to keep track of these attacks and make employees feel comfortable reporting the same.
Employees, primarily from higher management, must act proactively to manifest a security mindset over time. It is the joint duty of the organization and the employees to excel in security awareness and education. After all, you do not want to harm the integrity of yourself and your firm.
Conclusion
Understanding human-centric security for any enterprise is a vital responsibility, just like any other protocol or company policy. A deeper understanding of the type of identity-centric security is the first step to encounter such experiences.
By implementing programs, enterprises can negate cultural differences and promote emotional engagement. Additionally, organizations can make reliable strides towards setting ethical standards for their employees without putting them in the limelight.
For any enterprise to succeed, it is vital to invest in its employees. The idea is to address any prominent concerns before questioning their integrity towards the organization. This influences positive security behaviour in the work environment. The human aspect of security is irreplaceable with any technology or machine.
Organizations hire people and not machines; thus, they need a 'human touch' to anticipate any mistakes that might breach certain parameters of the firm.
No matter how advanced technology gets, it will not replace humans, whether in terms of work efficiency or security.