Stopping Insider Attacks During Remote Work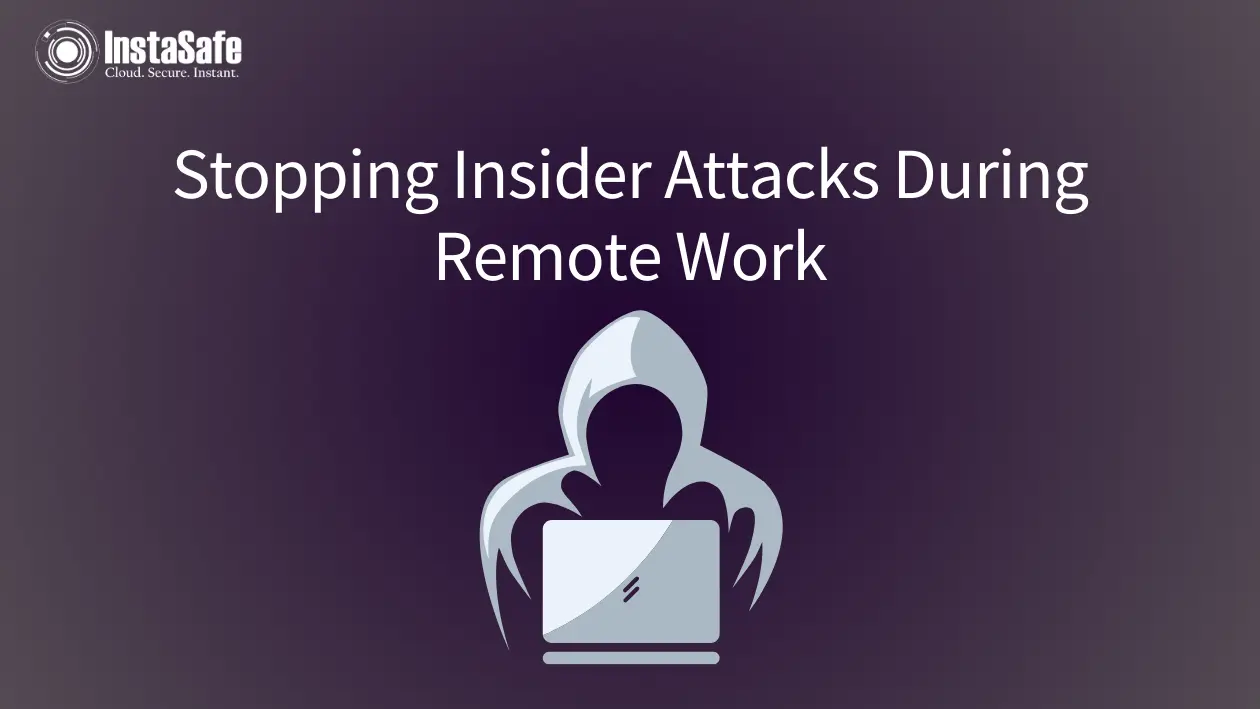 The year 2020 has caused significant ripples in the way organizations work. As remote working becomes the new norm, remote work insider attack risks are emerging daily. Remote employees use insecure tools, work in unprotected environments, and often mismanage confidential data. All these lead to insider attacks and risks.
What Are Insider Threats?
The term insider threat refers to data exposure that can negatively affect a company, its stakeholders, and employees. Insider risk is a relatively lower priority for IT departments, than external threats, as only a small fraction of the annual budgets are allocated towards insider risks, monitoring end-user activity, and protecting unstructured data.
To manage such risks, it is essential to follow certain practices and mitigate insider risks with efficiency.
Conduct a Remote Employee Risk Assessment
A risk assessment identifies threats, risks, and vulnerabilities within an organization. It also rightly captures the likelihood of a risk's occurrence, along with their possible impacts. Creating a remote employee risk assessment is the first step in gauging an insider attack within an organization. Such risk management can either be standalone or an integral part of the overall cybersecurity risk assessment plan.
While assessing remote employees' risks, you should pay attention to:
1)High-risk users: Are your high-risk users, like administrators, C-level officers, and other privileged users working remotely?
2)Control sensitive data: To create a risk assessment, it is crucial to understand the levels of access each remote employee has. Once that's decided, figure out how the employees are accessing sensitive data?
3)Stopping an insider attack: Do you have the required tools to detect and prevent an insider attack as and when it happens? If yes, do you have access to a full-fledged insider threat response team to manage such threats?
Implement a Remote Access Policy
A remote access policy is a formal document that outlines working remotely within an organization. In a nutshell, such a document should answer an employee's queries regarding remote working and telecommuting.
Such a policy usually covers the following points:
List of employees who can work remotely – full-time and part-time.
Defining business continuity, which should include each employee's working hours, reporting hierarchies, meeting schedules, amongst other things.
Communication guidelines to help the employee make the right decisions.
Equipment for remote employees, along with the guidelines on how to procure it.
Cybersecurity tools and the ways to install them to prevent cyberattacks.
Consequences for employees who ignore these policies and procedures.
For best results, one can team up with the HR department to chart out an appropriate policy, covering all bases.
Using Artificial Intelligence to Curb Insider Threats
Artificial Intelligence, as a technology, is rather adaptive and gives the end-users much flexibility. The response time of this technology is less, which means it can learn, act and adapt quickly. As such, AI plays an integral role in setting up remote work security protocols.
Create data solutions to rectify, support, and prevent end-user threats, including data leakages, unauthorized access, and much more. In addition to these, you can also use AI to drive threat detection programs and create robust response solutions to enhance security and productivity.
Securing Remote Access To Confidential Information
Whether remote or non-remote, employees need access to sensitive data to carry out their various daily responsibilities. Given this reason, such data becomes a vulnerable point for most organizations, since there are no control mechanisms in place.
Hackers usually target remote employees' devices to gain access to an organization's internal network instead of going around in circles to breach into an elaborate corporate network. This gives enough weightage to why it is vital to have secure remote access to confidential corporate information.
To secure the connection between a remote user and a sensitive resource, an organization can employ VPNs. Additionally, to ensure only an employee is logging in, you need to have an identity management solution to cross-verify a person's identity.
As soon as a connection is established, users should only access the data they need and not everything on the network. This can be enabled by Zero Trust methodologies. By layering the security levels, accesses can be restricted by organizations, and confidential data can be secured more effectively.
Monitor Remote Employees' Activities
Even though remote working is a new fad, it does not mean remote employees don't need to be monitored. The idea is to not pinpoint minute details, but the larger picture is to identify and detect threats and mitigate them, as soon as possible.
Some activity to monitor includes, but is not limited to:
Are remote workers using third-party tools for maintaining cybersecurity protocols?
How is sensitive data accessed, managed, and utilized between processes?
Is productivity taking a hit?
Before employing a monitoring solution, employees should know the following:
The reasons behind deploying a monitoring model
What actions and data will be covered under this model?
How is sensitive data accessed, managed, and utilized between processes?
While the goal is to let employees know their productivity and privacy won't be harmed, it is also essential to drive home the importance and need for data security in these turbulent times.
ducate Employees About Remote Work Security
Each organization handles cybersecurity and data management in a different, exclusive manner. When a new employee joins the corporation, they need to be made aware of how the different security models work, their importance, and their role in a worker's daily routine.
Some points which should be covered as a part of the education program include:
Instructions on how to use deployed cybersecurity tools
Data management practices, while working with personal devices
Hacking cases, effects of security breaches on organizations, compliance policies, and the need to maintain data safety
Points of contact for raising security-related concerns
Managing Insider Attacks With Practical Tools
Businesses like InstaSafe provide a series of tools and services, which are aimed at helping organizations work seamlessly through the pandemic. Each of their products caters to the various levels of remote working, which prevent cybersecurity breaches and facilitate a secure working environment for remote employees.