How Can Zero Trust Prevent RDP Cyber Attacks?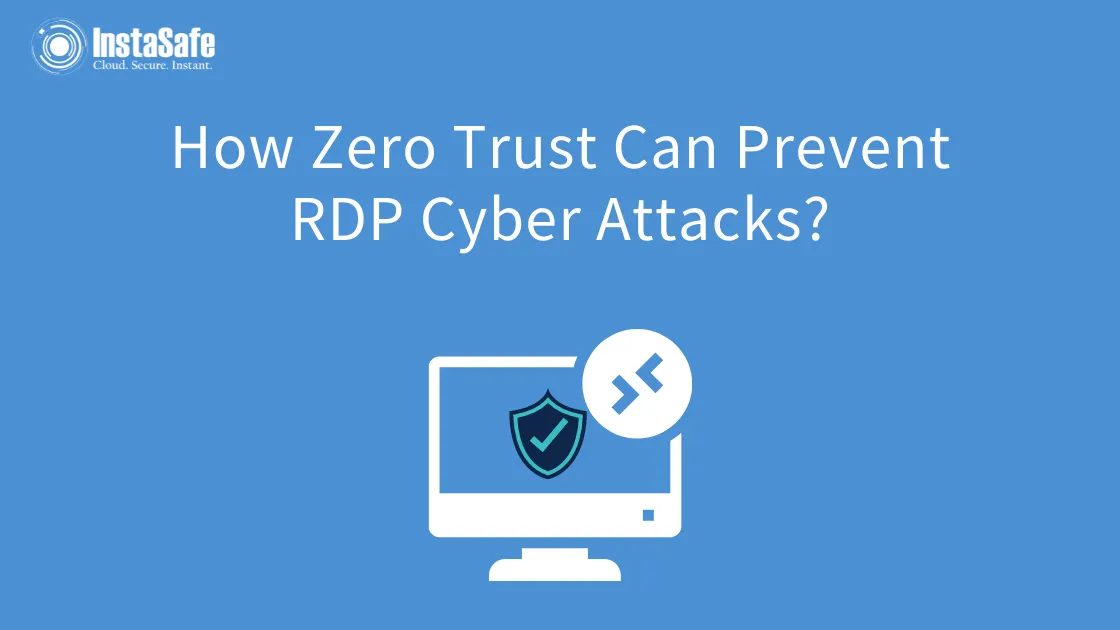 With the continuation of remote working environments and employees working from home, there has been a steep increase in cybersecurity attacks and online threats. Cyberattackers attempt to steal employees' login information to hack into the enterprise network and exploit its resources.
One such common attack is Remote Desktop Protocol (RDP) attack. According to the ESET Threat Report 2020, the remote working environment has led to 768% growth in RDP attacks between Q1 and Q4 of 2020.
RDP attacks exploit the necessity to connect to enterprise network applications from remote locations.
In this article, we'll learn more about RDP attacks and security risks and how you can prevent them with the implementation of Zero Trust.
What Is RDP?
Remote Desktop Protocol or RDP is a protocol developed by Microsoft for remote access and management of applications and virtual desktops.
RDP helps users and employees to mirror the computer interface they are accessing to manage it efficiently and work on it effortlessly. In addition,
The protocol is most useful to the IT, DevOps, and engineers who need to access and connect to the remote servers for support, maintenance, and troubleshooting issues.
While it has facilitated many remote task management, RDP also has many security risks and vulnerabilities. Let's see what they are.
Why Is RDP Not Secure?: RDP Security Vulnerabilities
Cyberattackers can easily exploit and compromise RDP sessions by exploiting vulnerabilities on the RDP server—the server employees access remotely.
Unauthorised users and attackers pose and pretend to be the RDP client to transmit malware responsible for exploiting RDP Server vulnerabilities. Moreover, an outdated RDP Server results in the complete server takeover, enabling lateral movement within the network.
Thus, these unauthorised threats attack open RDP protocols listening for RDP connections. And once attackers find these connections, they pose to identify themselves as users through malicious means and easily gain access to the network and its resources.
So how do we prevent these RDP Security issues and ensure secure remote network access? The answer is Zero Trust Security.
Ways Zero Trust Prevents RDP Attacks
It's important to prevent RDP security risks to protect data and network applications.
Zero Trust Application Architecture implements Zero Trust principles that follow the ''Never Trust, Always Verify'' approach. Hence, it prevents excessive trust, only allowing authenticated and authorised users to access the network applications and resources.
Here are the benefits of the Zero Trust Application in reducing RDP security concerns.
Zero Trust Security enforces advanced authentication and authorisation solutions, requiring users to pass through these processes to access network applications. Hence, it eliminates unauthorised access and prevents lateral movement within the network.
Zero Trust Application Security uplifts your network's security posture. It establishes separate encrypted tunnels for each user application connection and removes latency risks associated with traditional security solutions.
Zero Trust Security gives you better control over who can access your network applications. It lets you leverage granular access control to enable users to access only specific applications within the enterprise network on a need-to-know basis.
Zero Trust Application Architecture provides much better visibility of the user's activity across the network. As a result, it makes it easier to identify security threats, like RDP attacks and limit suspicious activity or user access.
Thus, the Zero Trust Application Security model proves to be a secure RDP alternative to prevent unauthorised user access, enhance network visibility, simplify access control policies, and improve the overall effectiveness of your network security.
Conclusion
Relying on traditional cybersecurity measures like VPNs is no longer recommended for modern organisations as they increase the network's attack surface and make it easier for attacks like RDP to exploit the network and its resources.
It's crucial to implement Zero Trust Security and educate and empower employees to implement secure application access solutions.
At InstaSafe, we offer secure Zero Trust Application Access services to enable Secure Single Application Access to your RDP Servers and applications present in remote locations. So, check out our services to prevent RDP attacks and security risks on your enterprise network. Book a demo today.