Zero Trust Security : Enabler of the Decentralised IAM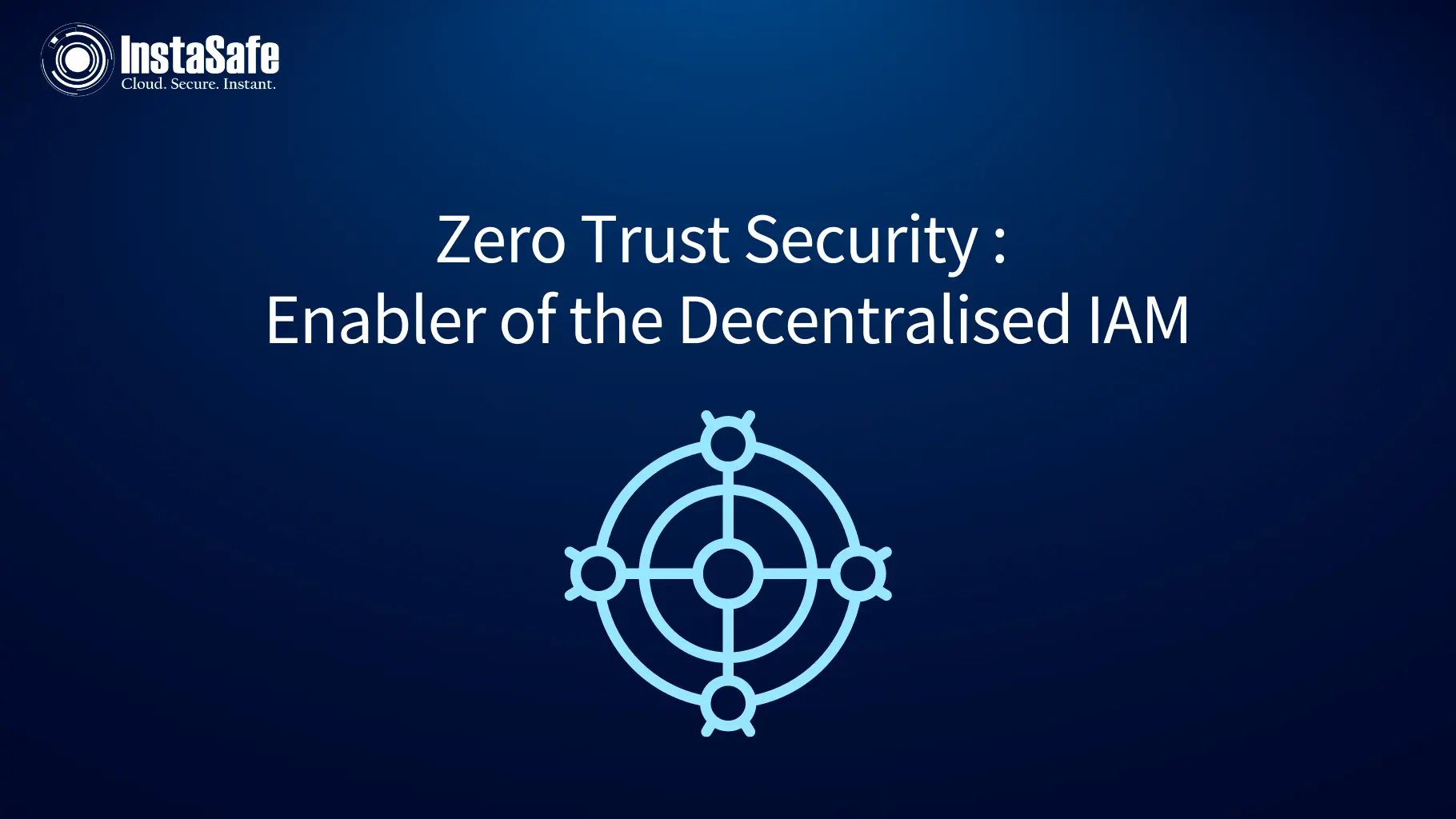 As digital association and the online interest of individuals grow, identity becomes the key element as it is increasingly surrounded by everything we do in our daily lives.
Want to play a game from the same level which you played the last time? Desperate to shop the items you left in the cart a month ago?
In order to access certain data, it is critical to verify your identity and required permissions, because, without an identity layer, data breaches and hacks of personal data are most likely. This holds true for digital businesses as well. Employees, partners and customers rely on a business's system and digital identity is the doorway for accessing it.
Need For Making a Switch from the Current Centralised IAM
According to Gartner, "The acceleration of digital business is driving investment in new architectures and creating new identity and access management (IAM) challenges."
With the increased occurrence of cloud-based activities, a particular business process might be dependent on a few interconnected systems running on different clouds. Therefore, to ensure the business reputation and data security at every step of the process, a business must confirm that only those who have the necessary permissions and rights access the information. However, with the current centralised digital identity system, it is getting difficult to track who has what access rights. Further, if a user's credentials are hacked, the hacker gains access to everything that the user has access to. Therefore, the current approach involves risk and doesn't give consumers control over their personal information. Therefore, a new approach for IAM is needed.
The fact that people can share their identity in modulation and have full control over what aspects to share and with whom, makes Decentralised Identity Management the most promising approach. On the enterprise front, often customers connect with the enterprise using different identities to gain leverage, which makes it complex to manage customer data and establish genuine identity and authentication. But decentralisation lets the business achieve the same.
What is Decentralised Identity ?
Decentralised Identity is a system that empowers users and enterprises to have greater control over their personal, social and financial data- and delivers a higher degree of confidence and security for apps, devices and various service providers.
Instead of granting broad consent to various apps and sharing personal data across numerous channels, people could benefit from a secure, identity wallet in which they store their credentials and let the user share only the relevant part each time. For instance, the level of detail and information required in dealing with a health insurer and mortgage provider is completely different. With decentralisation, the user controls what portion of the credentials to share with whom.
Another advantage of regulating what information is given from the wallet to the requesting third parties is that the user can manage and share his online identity along with maintaining privacy. For instance, stating that they are over 18, without actually revealing their date of birth.
Benefits of Decentralized Identity
Decentralized identity is not just a technological concept, instead, it is a revolution. Promising several identity attributes- most notably self-ownership and censorship resistance, decentralised identity provides restructuring of the present centralized identity ecosystem. The benefits are pervasive and flow across every source and channel.
For Users
Enables the user to experience highly secure transactions in tandem with controlling their digital identity and protecting themselves from privacy breaches.
For Organizations
Enables managing a large volume of customer data and engaging with less risk. Also helps in achieving user trust and improved transparency.
For Developers
Helps to achieve benchmark design of user-centric apps and services, further enriched by eliminating stringent authentication processes.
Future of Decentralised Identity: Zero Trust Security
Rooted in the principle of "never trust, always verify," Zero Trust abolishes the inherent trust that is assumed within an organisation's network architecture. Zero Trust Security reduced risk by leveraging network subdivision, validating device compliance before giving access, preventing lateral movement, establishing strong verification, preventing threats, and ensuring privilege access to authorised sources only.
As per IoT Analytics, there were 11.7 billion (54%) IoT device connections out of the total 21.7 billion active connected devices worldwide. It also predicts that by 2025 the number is going to rise to 30 billion IoT connections, i.e., 4 IoT devices per person on average.  With rising IoT connected devices, the risk of hacking increases. The key to reducing the business risk is to ensure that hackers don't get attack vectors. And to do that, organisations need to adopt Zero Trust Security Framework for authorising and verifying entry.
Identities should be validated and secured using multifactor authentication for all accounts including the guest accounts. The first step is to establish user identity, and once sure, risks should be eliminated concerning aspects like the state of their device, apps used and the confidentiality of the data that they are trying to access. Employ strategies like allowing-blocking-restricting access, limiting downloads, employing smart cards, controlling access to servers, eliminating passwords and implementing biometrics.
Multiple devices are used by multiple employees in an organisation and though the goal is for users to connect to enterprise resources via managed devices, sometimes they might need to access the network from other devices or locations. Device verification functionality is important owing to this transient nature. Policies like Mobile device management, configuration management and application control could be implemented.
The most common source of cybercrimes is internal attacks from malicious users. The Zero Trust Security Model verifies access requests using patterns based on time, device, identity and privilege. It also involves providing remote users access to applications deployed on the premises, without granting them admission to the entire network.
Zero Trust Security suggests enabling conditional access across services, eliminating the dependency on VPN, establishing appropriate routing, making applications and services accessible to remote users directly from the internet.
Pros of Deploying Zero Trust Security
When deploying the security framework, administrators need to be hands-on and have a complete infrastructure inventory, including the type and number of users, applications, devices and services within the enterprise. This makes the inventory stay updated all the time.
It enables using the mix of log and analysis to identify a breach of security and provides measures to rectify them; thus, giving administrators the advantage of early detection and rapid response.
Eliminating multiple password sign-in and enabling MFA, Zero Trust Security enables users to access the resources they need without having to worry about keeping track of passwords, thus enriching the end-user experience.
When you move apps and services from a private data centre to a cloud network, it takes a lot of time and effort to recreate a security framework at the new location. Employing Zero Trust Security enables central management of apps, services and data, which can easily be migrated using automation tools.
As Gartner says, "Once a decentralized identity is legally established, it can be verified by enrolled service providers within the ecosystem", deploying the Zero Trust Security framework matters the most. InstaSafe- the fastest-growing cybersecurity company in Asia, offers innovative security solutions including the Zero Trust Security Solution to back you up against security threats and attacks.