What is a Cloud Access Security Broker (CASB)?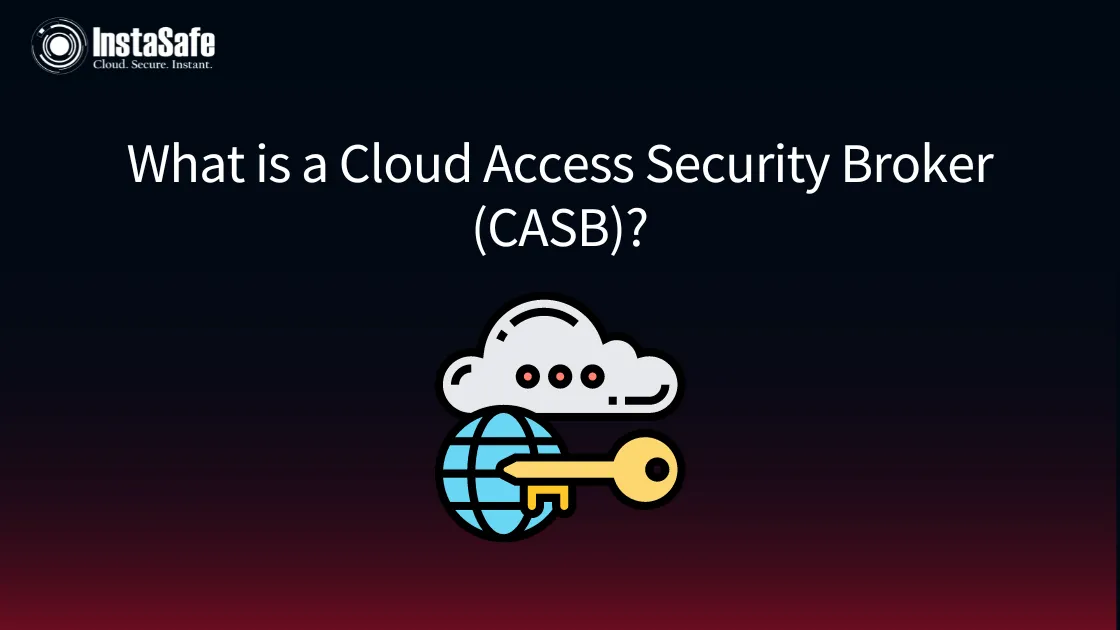 CASB, or Cloud Access Security Broke, is a security solution that acts as an intermediate point between the cloud services and users.
The whole purpose of the CASB solution is to offer protection to cloud-hosted services. Many businesses or organisations relying solely on SAAS, PAAS or IAAS can benefit from the CASB.
With CASB, organisations can prevent data leakage, malware threats and more. Due to its forward security approach, CASB has become essential to business security.
Here in this blog, we will understand what CASB is and how it benefits the business.
Why is CASB Needed?
Most organisations today rely on cloud networks as the best way to store and manage data.
However, with the increase in cloud adoption, the risk of cyberattacks and data loss also prevails, hence the need for CASB.
CASB is essential for cloud applications as it offers security such as data protection, access control and more. Some of the reasons why enterprises need CASB are listed below:
Managing access to applications on the cloud has become a difficult task for organisations. Security managers don't have clear visibility of who is accessing which resources. But with CASB, the IT teams had granular access to the application.
One of the significant concerns with cloud applications and services is that they can be easy to hack by crafty hackers. Businesses don't have ideas about security holes in their system. But with CASB, the sensitive data and information gets encrypted even in motion and rests across the network.
Another thing businesses worry about is whether their applications are compliant with data rules and regulations or their access keys are compliant. The violation of data policy can invite legal actions and penalties for businesses. The work of CASB is to ensure that the business remains compliant with data regulation and policy as per the industry standard.
Understanding 4 Pillars of CASB
In the early days, CASB used to deploy physical appliances for security, but with time, it began to evolve and offer enhanced security.
From just Shadow IT, the functionality of CASB has grown and divided into four essential components and pillars, which are as follows:
Visibility - In big corporate houses or businesses with large employees relying on cloud servers and applications, the task of monitoring who is accessing which data becomes difficult. Businesses have limited security tools to manage and control the cloud application. Outside the premises, the data is no longer under the governance of the business. There is always a risk of cyberattack or violation. However, with the CASB solution, companies and businesses have better visibility over the cloud application. Using this, IT teams and security managers can gain insight into how users access the resources in cloud applications. Further, the access logs will inform security managers about unfamiliar attempts to get into cloud networks. Besides this, it also provides insight into unapproved applications that can create the risk of data leaks.
Cloud Data Security - With cloud applications, hybrid and remote work is possible as employees can effectively communicate and collaborate from anywhere. However, it also raises security concerns since the confidential data is transmitted over the cloud application, which creates the risk of data breaches. On-premises data can be easily secured and protected, but the same doesn't go for cloud applications. The CASB solution has many security features, such as collaboration control, data loss prevention, encryption, tokenisation, etc, to protect sensitive information.
Threat Protection - There is always a risk of storing or transmitting malicious content on cloud applications, either by negligence or with data breach intent by employees or third parties. By using stolen credentials, attackers can breach into cloud networks. Such activities can easily go unnoticed by security managers. However, with CASB, it is easy to spot abnormal activity in the network. CASB is used to compare the pattern at regular intervals, and if the user's activity contradicts the regular usage patterns, it is marked as a red flag. Further, using modern technology, such as static and dynamic malware analysis, threat intelligence, etc, CASB can identify potential threats.
Compliance - There are various kinds of data regulations, such as CCPA/CPRA, GDPR, etc, that every business needs to comply with. The violation of these regulations can cause severe damage to a company's reputation and invite legal troubles and fines. With cloud data used outside the premises by third parties and vendors, there is always the possibility of violation of policies. The CASB helps in maintaining the various compliance as per the industry standards. They have the standard mechanism for security teams to maintain compliance with regulations. The CASB solution highlights any activity that can lead to a compliance violation, and then the IT team can resolve it immediately.
How Does CASB Work?
Now comes the question of how CASB works. The function of CASB is to provide security and protection to cloud data and applications. To provide the same, they have a defined approach and process, which is listed below:
Discovery - The first step of the CASB application is to discover the user and third-party services employed in the business. Knowing what kind of application is in use and who is accessing them is essential for offering security.
Classification - After the discovery, the next part is to do the detailed classification of the application, users and activities employed by a business. It includes the detail that has been stored in the application, the activity performed by the user and how it is being performed in the cloud network. It will help businesses understand the extent of risk associated with data transfer.
Remediation - Once the classification is done and the organisation is well aware of the risk, the next step is to define the security measures to protect the data. In the remediation process, the purpose of CASB is to define rules around data access and user access, and in case of any violation, it alarms the system. Not just this, CASB provides enhanced protection to cloud applications such as data encryption, configuration auditing, malware protection and more.
Benefits of CASB
There are several benefits of using a cloud access security broker, which are as follows:
The very first benefit of employing CASB is to get clear visibility of user access over any cloud application such as SaaS application and more. The CASB solution helps in creating a detailed report of the application usage and risk associated and then creating policies to prevent unauthorised access.
With so many sectors using cloud applications like finance, healthcare, etc, the need for compliance with various regulations is mandatory. Another benefit businesses will get by employing CASB applications is identifying the industry risk factor and using appropriate data policies to maintain compliance.
Another significant benefit of using CASB is advanced data loss prevention technologies to protect the sensitive data transmitted on cloud applications.
Top Use Cases for CASB
The most used use cases of CASB are:
Prevent Risky File Sharing - File sharing is common on cloud applications as it is part of collaboration. However, the risk of someone else getting hold of the data is also enhanced. But with CASB, the file sharing process becomes more secure and easy. It identifies the data that has been shared, with whom it is shared, and what kind of security measures have to be taken while sharing the file data.
Control Data Leakage - Further, another concern is data leakage. However, the CASB solution uses unified data protection with cloud DLP to ensure that all the applications are configured adequately with data compliance. Further, it has advanced data classification methodologies to ensure the safety of sensitive data.
Remediate SaaS Misconfigurations - The misconfigurations of cloud applications such as SAAS are common. In deployment, when these applications are not correctly configured can lead to security holes and leakage of sensitive data. However, CASB ensures that the SaaS applications are appropriately configured.
Govern Usage - The CASB solution, rather than employing one single approach for governing the usage of an application, goes with service, identity, context, application, etc, which offers granular visibility and control. Not just this, based on service and risk, users can define policies.
Considerations While Choosing a CASB
While choosing the CASB, some factors need to be considered, such as:
Organisation CASB Capabilities - Before selecting the CASB, businesses need to recognise the CASB use cases and how the CASB solution can help them. Every organisation has different needs, so it is essential to do the assessment. Based on the assessment, they should choose the solution that fits their needs.
Integration Capabilities - Another thing to consider while looking for CASB solutions is their integration capabilities. It is best to know if the CASB solution can be integrated with the business infrastructure for cloud services. The solution employed should be easily integrated into existing systems for a smooth process.
Performance and Scalability - Another thing to look for in a CASB solution is its performance and scalability. As the business grows, its requirement also expands so does the security measures. The CASB solution should be accommodated easily with the growing business security demands without compromising performance.
Conclusion
Organisations that rely wholly or partially on cloud applications can't put data security at risk. Having a CASB solution is necessary to offer enhanced protection.
Selecting the right CASB solution might be a challenging task with so many players in the market. But businesses who know their use cases and many other things like cost, deployment model and more can easily choose the right CASB solution.
One such name is InstaSafe, which offers a zero-trust model for business applications across cloud environments. InstaSafe solutions ensure top-notch security protection for businesses of all kinds.
With Instansafe, users will get secure authorised access to all cloud applications from a single dashboard.
Frequently Asked Questions
Is CASB the same as SASE?
SASE (Secure Access Service Edge) and CASB (Cloud Access Security Broker) differ. They both focus on improving security in the context of cloud services and remote access, but they address different aspects of network and security architecture.
2. Is CASB a proxy?
CASBs employ proxy-like functionality as part of their operations, such as traffic inspection, data filtering, etc.
3. Is CASB a firewall?
CASB (Cloud Access Security Broker) is not a firewall; however, they are both used in cybersecurity measures, but they both have different functionalities. Firewalls are network security devices or software that control and monitor traffic between a network and the external world. CASBs are designed to provide security measures to cloud services and applications.