SASE vs CASB: Everything You Need to Know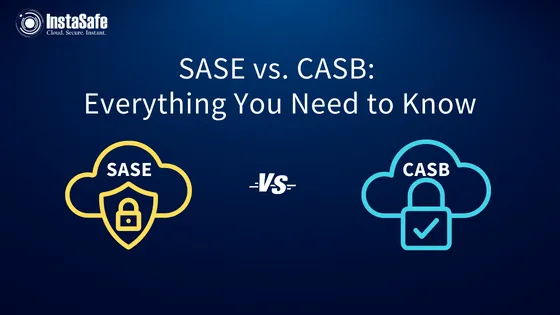 Due to the pandemic, companies across the globe were compelled to adjust their operations digitally to continue running their businesses. As a result, many of them have switched to remote work, expanding their enterprise's boundaries into insecure online territory.
The above has resulted in a surge of 85% in cyber-attacks, including data thefts and ransomware attacks, since March 2020. Consequently, a Zero Trust Network Access (ZTNA) is needed to address the evolving business challenges. This entails the use of security solutions like SASE and CASB.
Now, one question that people often ask is if a CASB is enough to uphold security policies and safeguard their cloud-based applications. However, relying solely on CASB is no longer the only option available for managing security policies in the cloud.
In this blog, we will weigh the advantages and disadvantages of CASB vs SASE and provide additional information to help answer the question of whether SASE or CASB is the better choice for cloud-based security policy management.
CASB vs SASE: Overview
A CASB (Cloud Access Security Broker) is a software or hardware program that acts as a security gatekeeper between cloud services and users. In simple words, it enforces security policies to protect cloud-based resources.
By providing deep visibility and granular control, CASBs can help enterprises detect any unusual or malicious activities and manage cloud access more effectively.
Now, while CASB has been a go-to data security solution for many enterprises, as IT infrastructures become more complex, a new architecture called SASE (Secure Access Service Edge) offers even broader capabilities. So, what is SASE?
SASE, a term coined by Gartner in 2019, is a cloud-based IT architecture that combines software-defined networking and network security tasks into a single cloud-native platform.
Unlike CASB, which focuses primarily on security, SASE is a more comprehensive concept that encompasses both access and security without physical boundaries. It includes various security components, such as Zero Trust Network Access (ZTNA) and provides a bundle of access and security features.
Pros and Cons of CASB
Although a CASB solution can be highly effective in achieving its intended purpose, it has some limitations.
On the positive side, a CASB solution provides some level of inline threat protection capabilities. It can be used with other solutions to provide an organisation's cloud infrastructure with the necessary protection.
However, the significant drawback of CASB is that it requires integration with other independent security solutions. Consequently, if an organisation needs to adopt, manage, and maintain a cybersecurity solution, it increases the complexity of security.
Pros and Cons of SASE
SASE is an up-and-coming technology that offers an all-inclusive solution to meet the networking and security needs of a corporate WAN.
Its integrated security stack provides a comprehensive security solution, allowing organisations to leverage SD-WAN network services and integrated security technologies simultaneously.
Unlike CASB, SASE is a complete WAN infrastructure solution that cannot be plugged in. Implementing SASE may require revamping the network and removing outdated networking and security solutions.
Nevertheless, the pros of SASE in terms of efficiency and security may outweigh the expenses associated with deploying it.
Final Verdict on SASE vs CASB
When it comes to protecting an organisation's cloud applications, CASB is designed to address the challenges. Even though CASB extends similar protections to cloud-based deployment, the cloud doesn't align with the traditional security model focused on perimeters.
In contrast, SASE provides a fully integrated security stack that includes CASB and optimised network routing through software-defined wide area network (SD-WAN), next-generation firewall (NGFW) security, and more.

The significant difference between SASE and CASB is the degree of security integration the solution provides and the resources it safeguards.
CASB secures SaaS applications and can be added to an existing security stack that includes the other necessary security solutions that the organisation has already invested in and deployed.
SASE, on the other hand, provides a fully integrated WAN networking and security solution that connects remote users and branch offices to cloud and corporate applications as well as the internet.
Conclusion
To adapt to remote work, more and more companies adopted virtual private networks (VPNs) to connect remote employees to their main servers. However, they soon realised that VPNs have endless security problems.
Today, companies require a robust security model that is not only strong but also simple, secure, fast, and flexible. The Zero Trust SASE security model, utilising the SASE framework, can provide a global cloud system.
The Zero Trust model assumes that all information and websites are unsafe, making them highly secure. At Instasafe, we understand the need for secure work-from-home solutions and provide exceptional and adaptable security solutions. Book a free demo with us to learn more!
Book a free demo with us to learn more!