Remote Access VPN: A Detailed Guide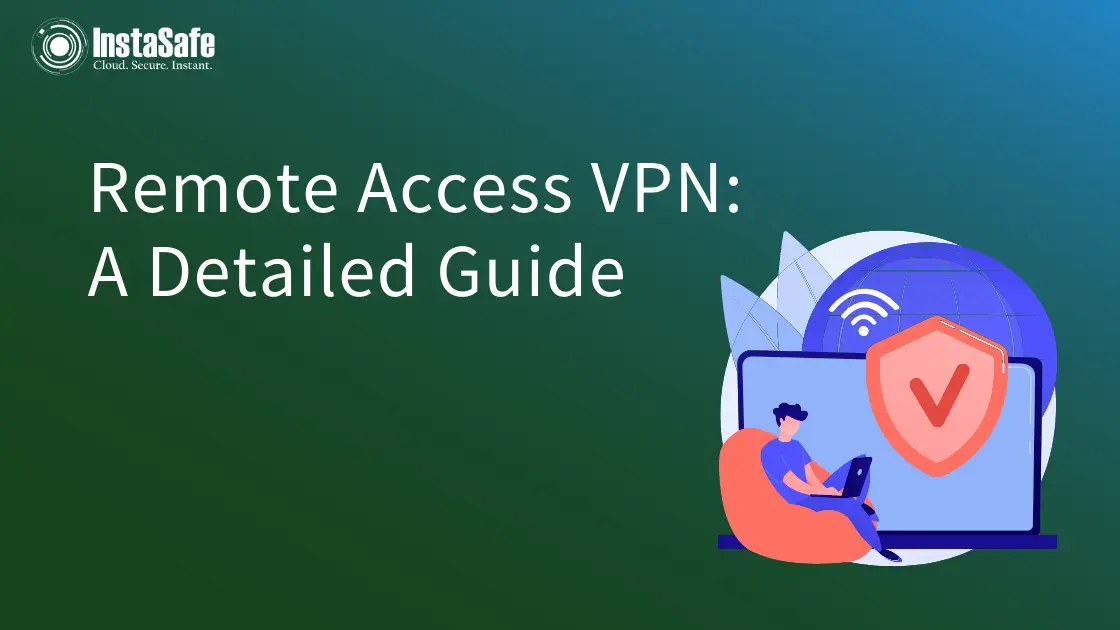 Virtual Private Networks (VPNs) are the most sought-after solutions for companies to cater to the needs of their remote workforce and enable remote access.
However, while VPNs are the go-to for remote connectivity solutions, they come with many security risks and vulnerabilities for today's modern enterprises. Some of these risks include:
Increased surface attacks
Performance and latency issues
Excessive implicit trust, making way for malicious users
Management complexity and difficulty with scaling
This is why companies are looking for alternatives to VPN for remote access to combat these security threats and ensure secure access for remote users.
In this article, we'll dive deep into understanding the secure remote VPN access meaning and its benefits for your organisation.
What Is Secure Remote Access VPN?
A remote VPN access solution allows your remote employees to securely connect to your organisation's network and access critical business information and resources.
Secure remote access has become of the utmost importance for businesses with the rise in the remote working environment and work-from-home situations—especially with the traditional VPN vulnerabilities in ensuring security and secure remote connectivity.
Secure remote access alternatives to VPNs encrypts all the traffic and ensure that the data and communication aren't compromised.
Hence, finding the best VPN alternative to enable secure remote access is important to leverage the benefits of remote access and enable secure remote working environments for your company and remote employees.
Benefits of Secure Remote VPN Access
Integrating secure remote access with the Zero Trust approach is the best remote access VPN solution that can help you prevent cybersecurity attacks and secure business data.
Here are the benefits of Zero Trust secure remote VPN access for your organisation:
Data security and encryption
Unlike traditional VPN solutions, remote access VPN software uses critical security measures like end-to-end data encryption to protect the data when it travels over the public internet.
A VPN client software enables secure access through a VPN tunnel for remote employees and users. As a result, any hackers or malicious users attempting to access or intercept the data would only end up viewing the encrypted information.
Moreover, the Zero Trust VPN alternative solutions create separate data and control planes, ensuring user data doesn't go through vendors. This also helps prevent lateral movement, confidently protecting your cloud resources, applications, and remote workforce.
Device posture checks
The Zero Trust VPN solutions enable device posture checks, allowing you to create customised access policies for different device types to ensure that the right users access data from the right devices at the right time.
It offers complete control over the device permissions, along with temporal and geo-location binding, to restrict unauthorised device access from accessing your company network.
Better user management and authentication
Secure remote VPN access allows businesses to map their users or employees with their respective devices and seamlessly manage user permissions and identities to reduce internal and external risks.
You can seamlessly integrate inbuilt IdP with existing IdPs to efficiently manage user identities and identify privileged and high-risk users and devices.
Other ways you can manage users are:
Leverage Multi-Factor Authentication to enhance your authorisation capabilities.
Use a continuous risk assessment system to validate the user's identity before granting them access to the requested resources.
Extend your company's AD/LDAP compliance to your remote workforce and employees with the best and ideal VPN alternative solution
Secure application access
Secure VPN alternative solutions let you restrict user access to the entire network and only allow access to specific applications and resources they require to complete their work.
It creates application-specific tunnels from the user or application devices to the authorised network applications only, preventing the entire network from being exposed to the users.
Thus, without risking your company network, you can offer secure and seamless access to the shared web and SaaS applications to your employees located remotely and globally.
Better productivity
Secure VPN access help improves employee productivity, allowing them to work from remote locations securely.
This flexibility allows them to work from anywhere, be it from their favourite coffee shop or restaurant, making the work more enjoyable, efficient, and accessible.
Employees can efficiently work while they travel, and companies need not worry about security threats—a win-win situation.
High simplicity and flexibility
Traditional VPN solutions have management complexities and redundant security stacks, increasing operational and maintenance costs. On the contrary, secure VPN access solutions remove the redundant-based VPN security stacks that require complex management and replace it with a unified single secure VPN access solution.
Moreover, remote VPN access software is flexible enough to be used with any type of internet, including public Wi-Fi internet connection, without requiring special external hardware.
Cost-effective
Zero Trust remote VPN access solutions are highly cost-efficient.
More employees working from remote locations reduces the need to maintain office spaces and pay for the accompanying expenditure for utilities, rent, office furniture, electronic devices, internet, and more.
Simply choose an affordable and reliable secure VPN access solution, and your employees are set to work securely from their home's comfort.
Conclusion
Both companies and employees enjoy and observe the benefits of working from home and remote locations. However, cyber attackers and malicious hackers take undue advantage of this remote working situation, exploiting critical business data and applications.
You can avoid this by enabling remote employees to use a secure VPN access solution that prevents hackers from accessing critical applications and compromising sensitive information.
If you want to save your business reputation, check out the Zero Trust VPN alternative, one of the excellent and secure InstaSafe technologies. At InstaSafe, we offer a secure VPN alternative solution to make your organisation cloud and future-ready and secure against increasing data breaches and online threats.Contact us or book a demo to learn more.