Instasafe is listed as a Representative Vendor in Gartner's 2022 Market Guide for Zero Trust Network Access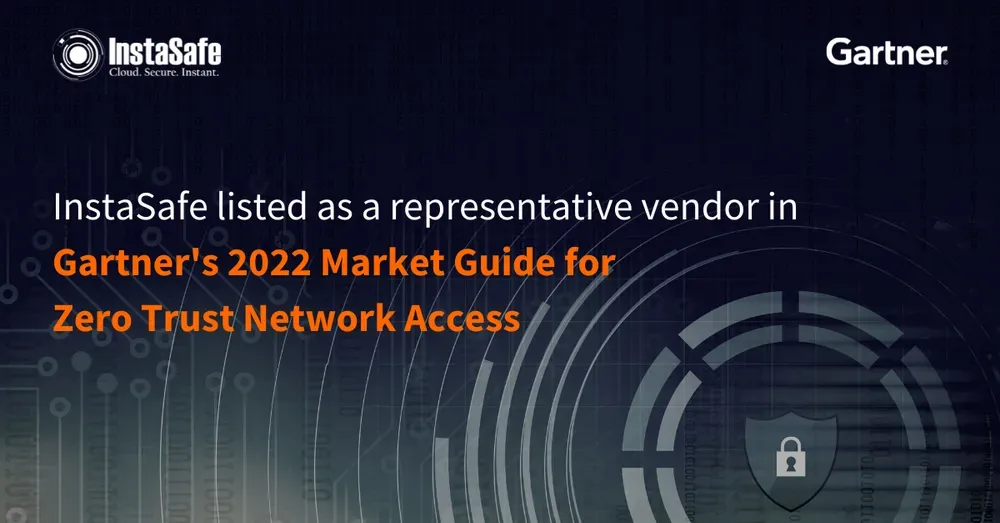 04-Mar-2022: Gartner recently released its Market Guide for Zero Trust Network Access 2022 edition and Instasafe is pleased to announce that it is listed as one of the representative vendors in this ZTNA category.
As per Gatner, Zero Trust Network Access (ZTNA) is categorized as a product and services that provides identity and context based logical access mechanisms encompassing users, devices and applications. ZTNA removes excessive implicit trust that is often accompanied with legacy VPN solutions.
The major use case of ZTNA remains to be VPN replacement. Gartner predicts that there will be 60% YoY growth rate for ZTNA solution.
Gartner has also provided suggestions on how to prioritize ZTNA vendor selection based on the use cases and product features. MFA should accompany ZTNA solution. Instasafe is one such one-stop solution which has integrated MFA, SSO, and inbuilt IDP.
"We are excited to be listed as the representative vendor in Gartner's market guide for ZTNA. This is a great validation of our vision of creating simplified and secure remote access solutions for enterprises. Gartner's market directions and recommendations will create more confidence within security and risk management leaders for Zero Trust solutions. With new norm of modern hybrid workplace, ZTNA solution is going to remain more relevant to provide secure and safe workplace for organizations" - Sandip Panda, CEO and Founder, Instasafe

About Insasafe Zero Trust Secure Remote Access solution
InstaSafe Zero Trust Secure Access is a unified security platform that empowers security teams to allow seamless security and management of remote access capabilities across multi-cloud and on-premise environments, while eliminating the need for VPNs and other obsolete security tools. InstaSafe's award winning Zero Trust methodologies allow IT teams to employ a model of continuous authentication and authorisation, and implement a least privilege access model on scale, while ensuring visibility over user activity. What differentiates InstaSafe's solutions is its ability to deploy both agent based or agentless models as per customer needs, and support multiple use cases within the organisation, ranging from secure cloud adoption, to remote access to on premise as well as cloud applications.

InstaSafe Zero Trust Key Capabilities include:
Work from Anywhere: With InstaSafe, IT teams can manage access to all applications from a single vantage console. At the same time, employees can work securely from anywhere without worrying about compromising their networks
Replace your VPN: InstaSafe enables secure access to applications of any kind, to workforces situated anywhere. Compared to legacy solutions like VPNs, InstaSafe minimizes attack surface and prevents malicious actors from gaining insider access to sensitive resources
Manage Vendor Access: With advanced monitoring and authentication features, and all round visibility over all user activity, privileged access of resources to third party contractors using unmanaged devices becomes simple and easy
Secure On-Premise and Cloud Applications: Instead of relying on multiple tools to access on premise and cloud workloads, simplify access and prevent the risk of lateral movement with InstaSafe
Integrated MFA and SSO:  Instasafe has integrated MFA solutions that supports SMS, TOTP, Biometrics, Push based notification. Instasafe is a one integrated solution that has MFA, SSO, inbuilt IDP to provide end to end solutions to secure users, device and applications.

For more details, reach out to us at marketing@instasafe.com