InstaSafe Cloud Access for AWS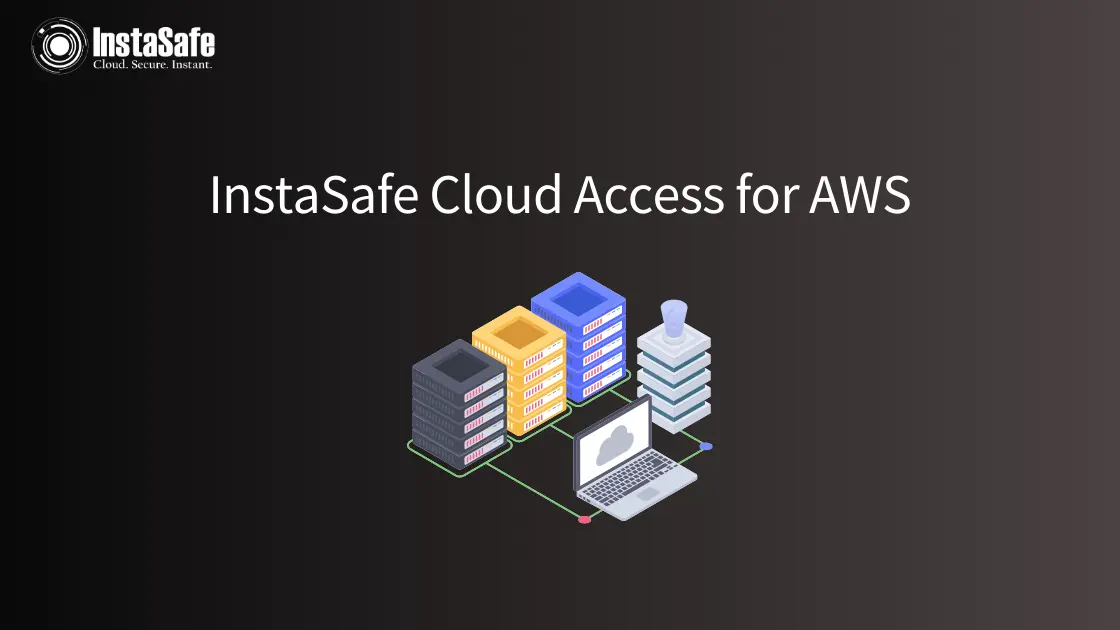 Challenges in Securing Hybrid Data Centers
AWS opens up a host of new opportunities for enterprises in the cloud. They can take advantage of a wide variety of services, unlimited storage, dynamic computing power and continuous application delivery. AWS is increasingly being adopted because it has a 'Pay as you Go' model, is completely Scalable, highly Reliable, completely Customizable and has Hybrid Capabilities.
AWS offers in-built security functions such as Network Security Groups, Application Security Groups and others to secure your infrastructure on AWS, basis the shared responsibility model. However, while accessing various resources on the AWS Cloud, the network security levels are highly limited when using AWS's own security functions, as it is restricted to IP address and port-based access controls. This limited control is contradictory to the granular identity-based access controls that enterprises implement within their infrastructure.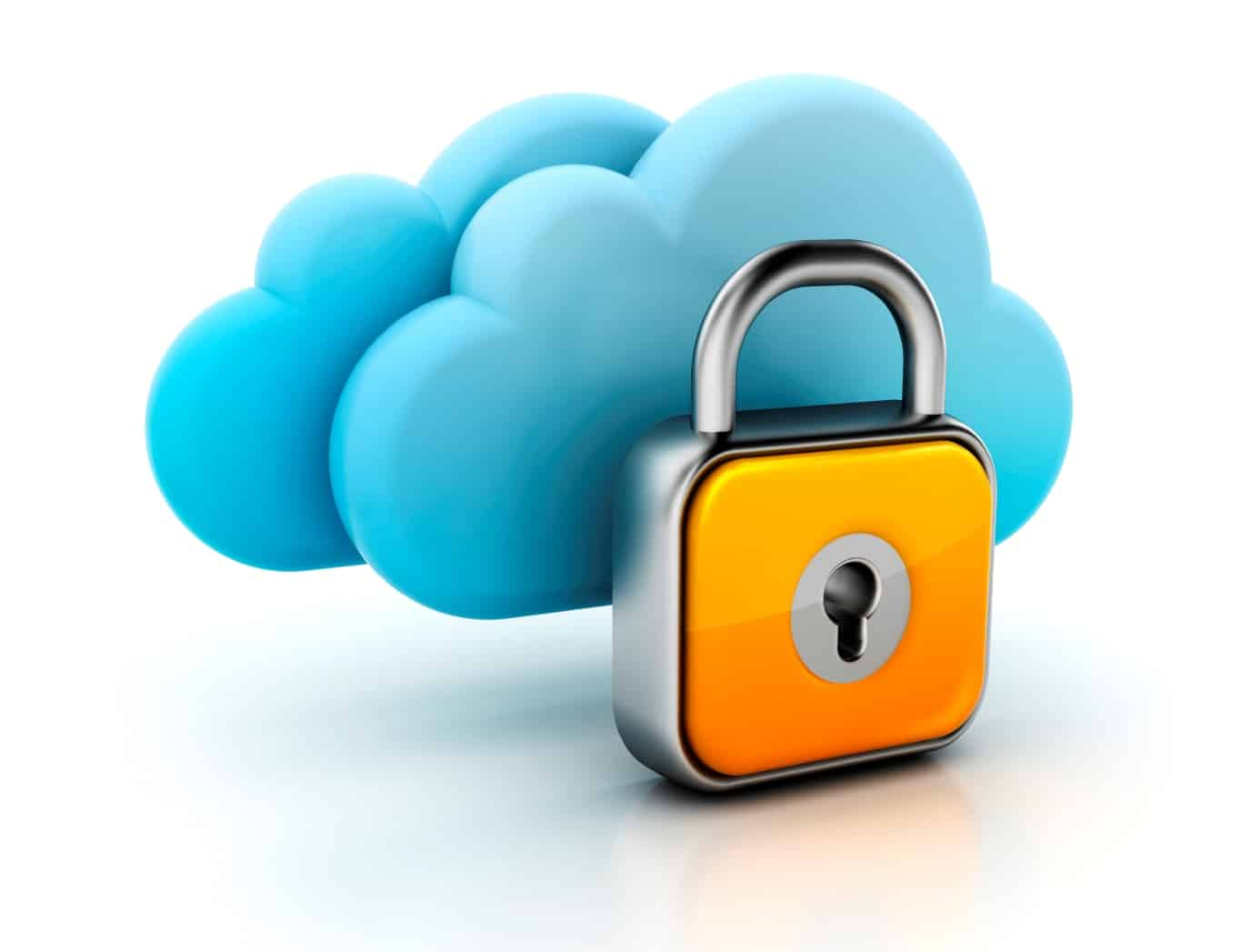 Existing Solutions Have Major Drawbacks
AWS Network Security Groups allow you to limit access to the VMs, Databases, and other such resources based on source IP address. Typically, the source IP address is your own set of public IP addresses. For individuals or companies that do not own any static public IP addresses, this security function provided by AWS is not applicable and hence, they are further exposed to a higher level of risk. Of course, additionally, the Network Security Groups can be defined to restrict access to specific ports.
This limitation of security functions on AWS are typically overcome by using site to site VPN connection to the on-premise data center and then backhauling all user traffic through remote access VPN setup for the users. However, such solutions are at best a patchy workaround and do not fully provide the level of security that is required by enterprises.
The major drawbacks of using legacy VPN solutions are:
Poor User Experience
Mediocre Security
Complexity
Are You Facing These Challenges?

Do you need to create a private network between your different regional VPCs?
Is your AWS Compute / Storage / Databases on public IP addresses accessible to users with a username and password?
Are you facing challenges for your DevOps to securely manage your AWS infrastructure?
Is managing your VPN setup across your IaaS, private cloud and users challenging?
InstaSafe Cloud Access (ICA) – THE Solution for All Your AWS Problems
InstaSafe Cloud Access for Amazon Web Services, addresses the above challenges and more by providing enterprises with a solution based on the Software Defined Perimeter principles. A Software Defined Security specifically built for AWS infrastructure enables better cloud adoption and empowers mobile workforce.
ICA solution provides an identity based granular access control solution based on the principles of Software Defined Perimeter (SDP). SDP concepts have been derived from the military, especially the Defense Information Systems Agency (DISA), where they pre-attested every device before it could 'connect' to the network and then verified the identity of the user using Multi-Factor Authentication (MFA) leading to knowing exactly what device was being used and by whom to access the network.
With the device & user's knowledge, they were able to then ensure that the device and the user were able to only 'see' and 'access' the data, that they had 'prior approval' to see or access – basically a 'need-to-know' access model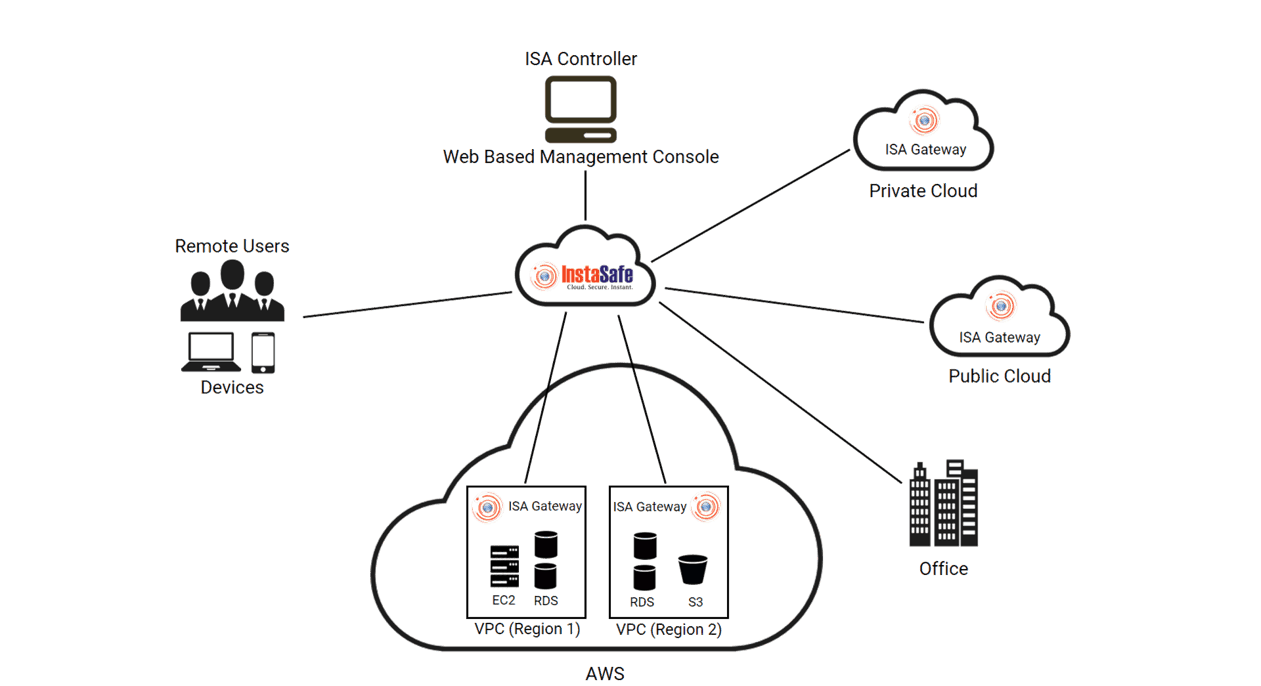 Features and Benefits of InstaSafe Cloud Access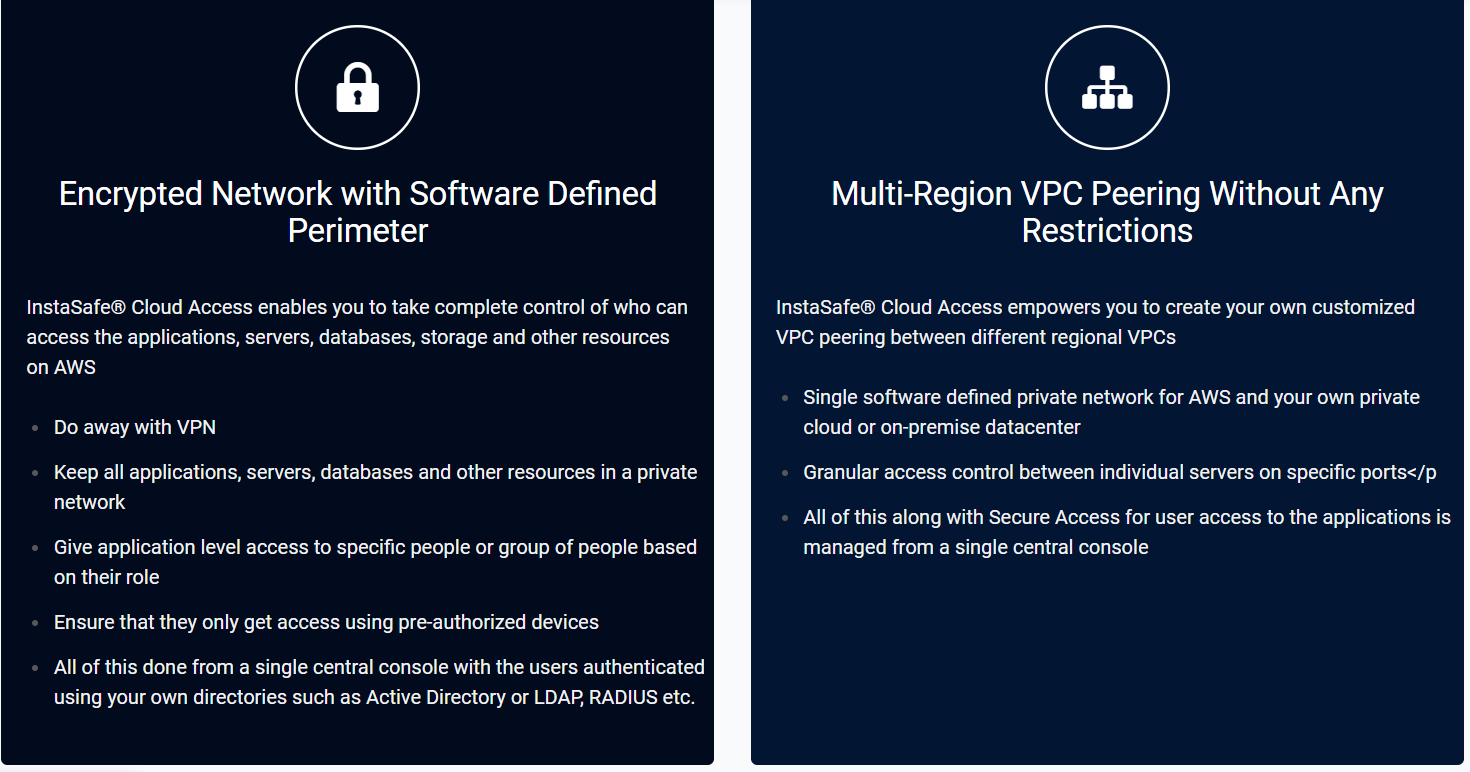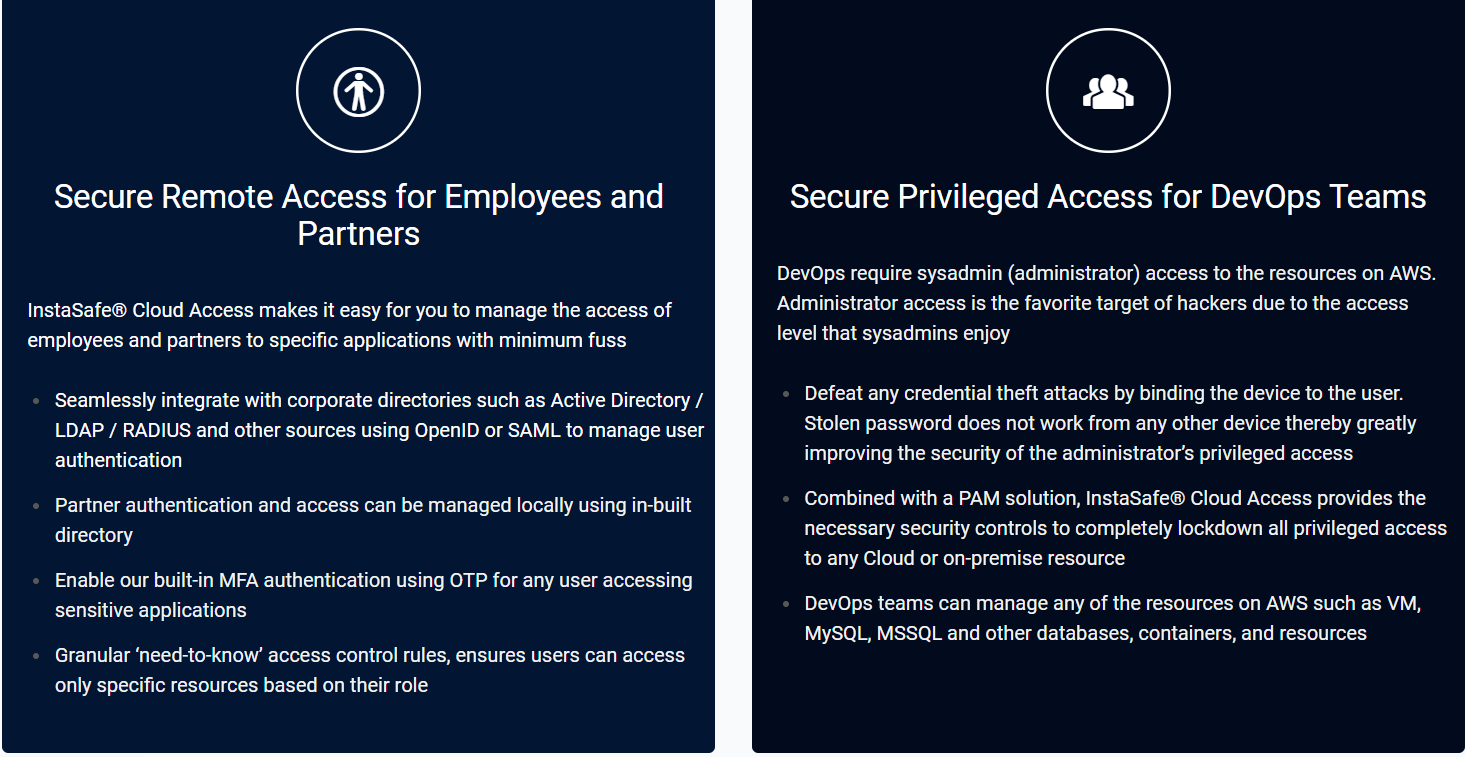 Why Choose ICA to Secure Your AWS Infrastructure?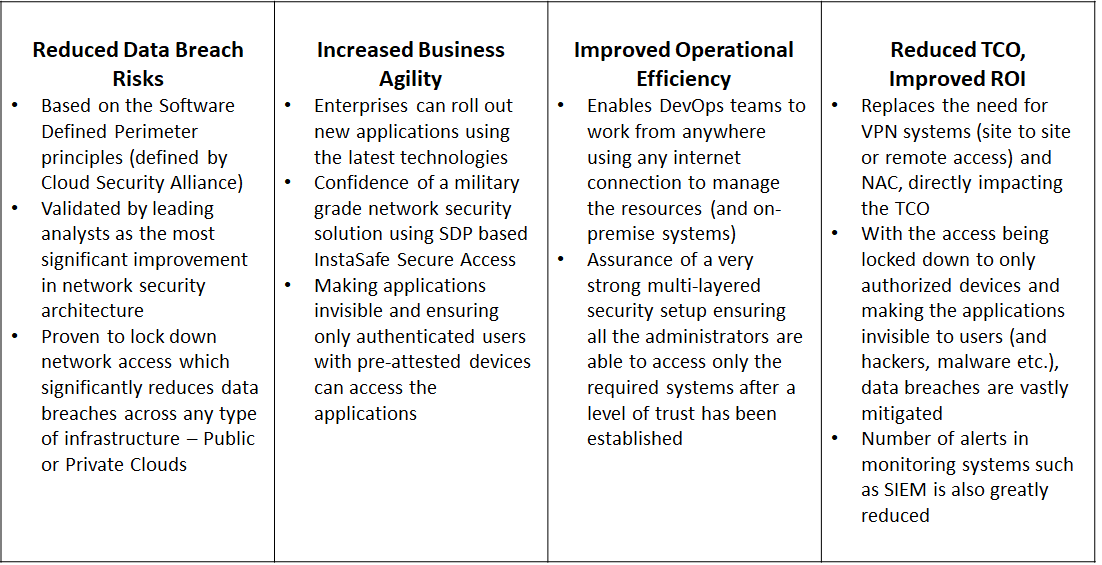 For more information, Book A demo here