How to Build a Secure Perimeter to Improve Network Security With Zero Trust?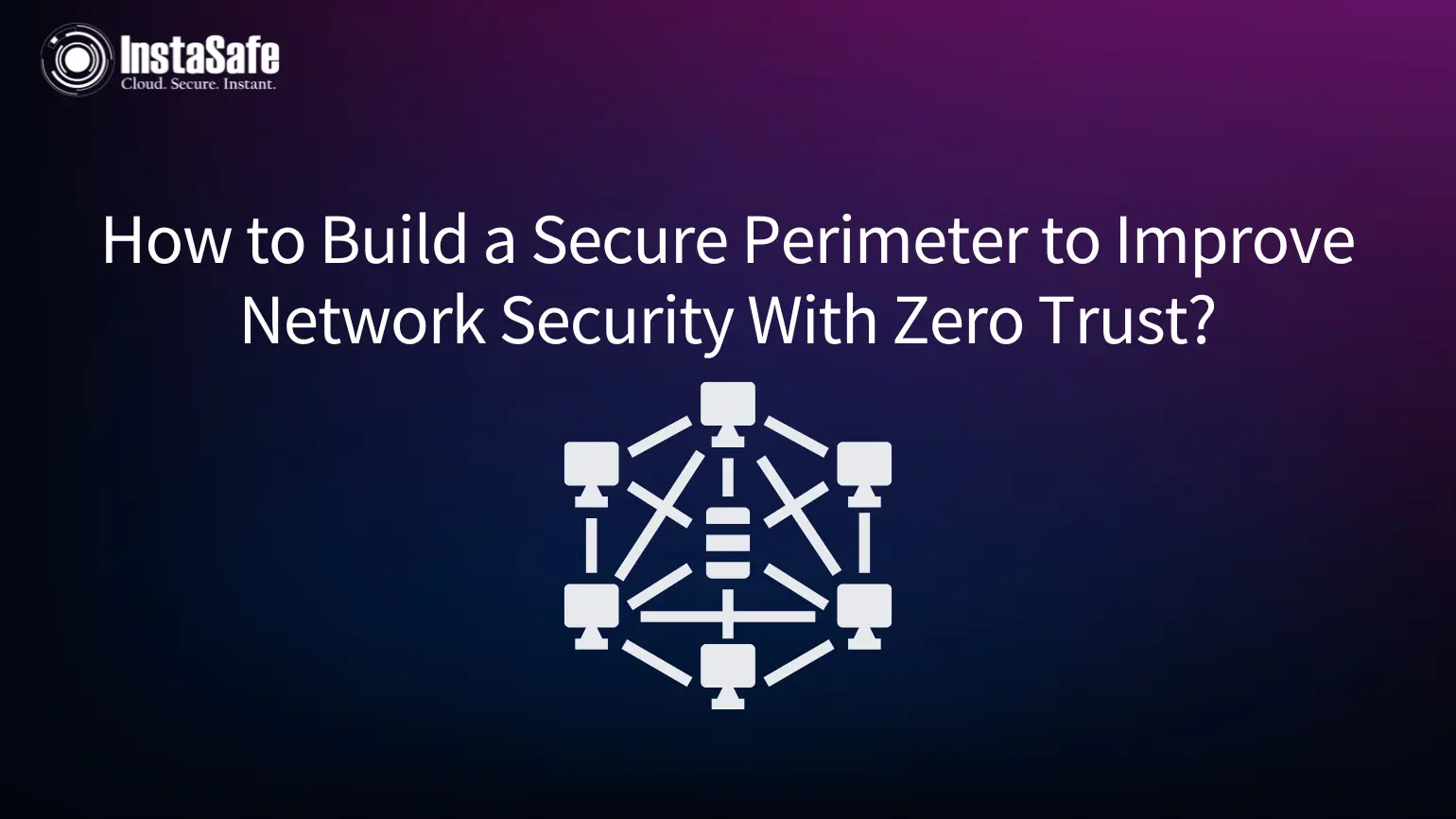 The latest survey revealed that more than 90% of people use security software as a cybersecurity best practice and around 90% of them run the software updates regularly.
But, what would happen if the software they trust and update regularly falls victim to a cyberattack? Or, if their perimeter security vulnerabilities pave a way for attackers into their company data and resources. And, what would happen if the data stolen has IP or transactional value?
Well, there is no doubt that there are huge aftereffects that might send your business into a setback you might never recover from.
Further, Kaspersky recently talked about how the 5G network is going to be a favourite of the attackers, aiming to leverage the flaws in the technology.
Hence, before you rely on the security solutions or the updates, you must aim at building a secure perimeter with network security based on the Zero Trust Policy.
Below, we share the importance of having a Zero Trust Perimeter, its advantages and the best way to do so.
So, take a thorough read and take the best and the first step towards more secure network security!
What Is Perimeter Security and Why Does It Matter?
Perimeter Security implies a setup of security techniques or functional apparatus that secures the perimeter of a network, and its data and resources. While it is a subset of the greater security system every business organization has, it has a key role in ensuring active system protection.
So, the security professional creates a perimeter-based security system, such as:
Firewalls
Browser isolation systems
Surveillance detection
Threat recognition
Pattern analysis
Take a look at the following visual that shows the way perimeter security works: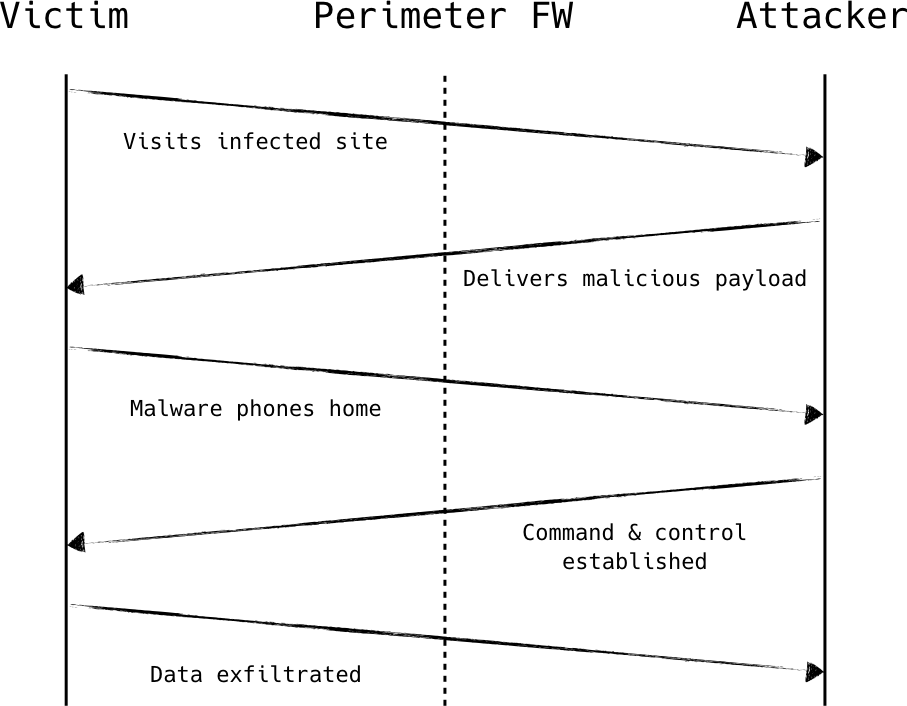 Client initiates all attack-related connections, easily traversing perimeter firewalls with relaxed outbound security
So, all in all, perimeter security is designed to keep the enterprise network safe and thwart security threats or attacks.
In order to realize the importance of having a robust and reliable perimeter security system in place, let us take a glance at some of the stats:
43% of the cyberattacks target small business setups
59% of the companies have experienced malicious codes and botnets
62% of the companies have been subjected to social engineering and phishing attacks (Source)
With strong perimeter security, you can place a strong and resilient boundary between the internet and your network and:
Protect your network gateways
Check and validate every incoming connection and access request
Place added layers of protection even after access is granted by the router
Leverage IPS or Intrusion Prevention Systems for automated system defence in case any malicious activity is detected
So, all in all, you can keep all your crucial assets safe and secure from cyberattacks and malicious activities.
What is Zero Trust Perimeter Security?
Zero Trust Perimeter is the most robust and highly reliable way of ensuring data and network security in any setting. While the traditional security approach says – "trust, but verify", the Zero Trust Policy says – "never trust, and always verify".
Zero Trust network security enforces protection and security policy adherence across all the verticals, namely – devices, users, data, resources and applications. So, no matter where your connections and access requests are coming from, they will be authenticated and verified and monitored (based on the type and levels of security) at all times.
Hence, the Zero Trust Perimeter doesn't even give the benefit of doubt to the internal connections!
The Zero Trust Perimeter offers triple benefits – Visibility, Threat Inspection Capabilities and Control.
When applied effectively, it can protect your network from:
Targeted attacks
Modern malware
Unauthorized data exfiltration
Malicious access
Data and resource attacks
Next, we discuss some of the major advantages this approach has to offer!
Advantages of Zero Trust Perimeter Security
Minimizes Data Losses
As you always authenticate and validate the access and incoming connection requests, your data loss mitigation capabilities become fantastic. You can use the applications safely and also minimize threats.
Hence, the odds of losing your data or getting it compromised or stolen are extremely negligible.
Reduces the Total Cost of Ownership
Zero Trust Perimeter replaces the disconnected point products and tools with a single security platform that is highly consolidated and well-built. Hence, the overall cost of ownership lowers and your expenses on security solutions get minimized along with the complexity.
Easier Compliance Management
You can set highly effective trust boundaries and enjoy effortless compliance management. This is done by segmenting the sensitive resources into multiple small perimeters that are yet again segmented and secured on the basis of policies and permissions.
So, you can have clear-cut boundaries between the sensitive data and compliance data and automate the compliance management process without risking your confidential data.
Enables Virtualization and Mobility
Another advantage of implementing Zero Trust Perimeter Security is that you can accommodate transformative IT initiatives, including
Cloud computing
User mobility
Social networking
Infrastructure virtualization
Infallible Security
As every incoming connection request and access is verified and authenticated, your business organization is safe from sophisticated cyber threats. You can filter the known threats and keep them from penetrating perimeter defences.
Hence, you have ad added layer of security sitting right between your security solution provider and your firm.
How to Get Started With the Zero Trust Perimeter Network Security?
Implement Secure Network Access
Ensure that all the data and resource access requests are authenticated and verified, regardless of their source and location. When you implement network security via a client app for endpoints, it allows for SSL VPN and secure IPsec connectivity for:
All employees
Customers
Partners
Guests
This makes it vulnerable to threats!
When you make the network access secure and implement additional policies for access rights for sensitive apps, data and resources, you create multiple boundaries.
Hence, more security!
Access Control Based on Least Privilege
The majority of the legacy solutions limit themselves to protocol-level and port-level classification. This can generate a lot of unfiltered traffic.
On the other hand, the Zero Trust Perimeter security has granular access control, where all the users are tested for access to appropriate apps and data. This eliminates unauthorized or malicious traffic from the enterprise network.
This least-privileged access strategy strictly enforces access control at all levels and maintains the security of the system.
Traffic Inspection and Logging
The smartest way to ensure that all the access to your data and resources over the entire network is authenticated, you must inspect and log the traffic data. Identify all the traffic, irrespective of the encryption or hopping and protocols or ports.
Maintain a log of all the traffic with time, IDs, unique identifiers, resources or data fields accessed and date etc.
This way, you can not only keep the attackers at bay but detect and monitor anything fishy with your network security.
Enable Advanced Threat Protection
In order to implement Zero Trust Perimeter Security, you must implement advanced threat protection for all the devices and users. Also, you must have a highly integrated defence system that enables the trust boundaries for all the users and devices.
Keep the Performance in Mind
As the Zero Trust Perimeter Security stems from multiple networking and security capabilities, they must be designed keeping the overall performance and speed in mind.
So, choose your software smartly!
Make Your First Step Your Right Step: Choose InstaSafe
The InstaSafe's Perimeter Network Security with Zero Trust Policy is built to keep the overall performance and speed of the system in mind and minimizes the latency in the process.
It increases the uptime of your network and offers high availability without the loss of service. Offering unbeatable visibility and app control, it is a powerful tool that ensures safety and security for all types of networks and business organizations.
All the employees, customers and guests can access the relevant network entities and enjoy a highly streamlined experience without any lags. And, your business enterprise can stay cocooned in the robust protection layer of InstaSafe's Zero Trust Perimeter Security.
For more information, and to take the first step towards Zero Trust Security, schedule a demo now!