How Can Firewalls Promote Zero Trust Security?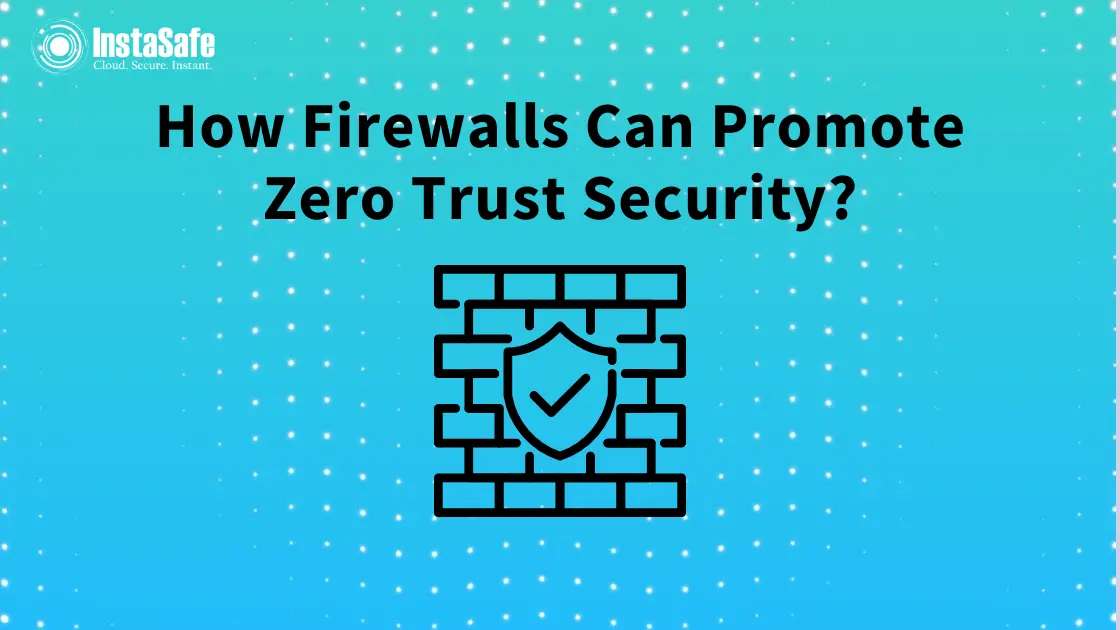 Everything from data and applications to the network resources and machines resided on-premises until recently. Hence, securing those resources within the organisation's perimeters by establishing a firewall security system met the needs of most businesses.
However, today, the situation has changed.
With the increase in the adoption of the remote working environment, employees work from everywhere, and business data and applications are no longer restricted to residing within the organisation's data centre.
As the security perimeter diminishes more with time—it requires a much more robust and reliable solution to enable secure cloud access and protect applications.
Hence, relying only on firewalls that don't meet the need of modern enterprises isn't an option anymore. But it doesn't mean the end of the firewall era.
Many businesses are turning to next-generation firewalls (NGFWs). These NGFWs are hosted in the cloud and often combined with the Zero Trust Security models to fulfil the security requirements of evolving modern organisations.
In this article, we'll see the benefits of firewalls with the Zero Trust model and how these two work together.
Can Zero Trust and Firewalls Work Together?
While firewalls have helped businesses secure cloud applications for decades, most people and businesses no longer find them reliable and even think they can't be used with Zero Trust.
Daniel Schiappa, Chief Product Officer at Arctic Wolf, said to Forbes that the future of network security would comprise no corporate firewalls and that attackers target vulnerabilities in VPNs and firewalls, knowing they're the single point of failure.
The inefficacy of traditional cloud security access solutions include:
Increased attack surface
Excessive implicit trust in all users
No visibility and monitoring flexibility across the network
Limited support for digital transformation like BYOD policy implementation
However, while many businesses believe that the firewall is dead, you can still promote your Zero Trust Network security with next-generation firewalls.
Benefits Of Zero Trust Security With Firewalls For Secure Cloud Access
Zero Trust and firewalls can work together, and according to Forrester's report, the NGFWs are the cornerstone of the Zero Trust strategy.
Here's how firewalls can help extend the Zero Trust security solutions benefits for your organisation's network security.
Segmentation and improved visibility across network applications
The NGFWs act as segmentation gateways in the Zero Trust security architecture.
Unlike firewalls and VPNs that protect the external network perimeter, the NGFWs are placed at the network's centre, in front of the data or application to be protected, instead of the network's edge—the core Zero Trust principle.
This helps reduce the risks of data breaches, provides complete visibility over the network and user's activity, and makes finding intrusions easier.
Flexibility to extend on-premise security to the cloud
You can seamlessly integrate compliance solutions and on-premise data protection with the cloud and extend AD/LDAP policies to your cloud assets.
Zero Trust lets you frame access policies that you can apply to on-premise and cloud applications to maintain comprehensive insights over your entire network infrastructure.
Simplified cloud management
The Zero Trust Architecture simplifies cloud management and access to your cloud assets and applications from a single standardised dashboard.
Thus, it eliminates the complexity and the need for multiple management and monitoring tools to monitor the network and user activity across your enterprise network.
Enhanced user and employee experience
The Zero Trust model promotes and enhances user experience by enabling fast and private connections that provide single-click access to multiple cloud applications hosted in different cloud environments.
This helps promote employee engagement and productivity for businesses.
Reduced operational expenditure
Traditional cloud access and security solutions like VPNs and firewalls come with management and maintenance complexities, adding to the business costs associated with scaling and maintaining the network as business needs grow.
On the other hand, software-based unified single-click access solutions with Zero Trust for data and applications hosted on the hybrid cloud environment minimise the operational costs associated with redundant tools and applications.
Conclusion
The Zero Trust model requires users and employees to pass through strict authorisation and authentication to access the network's applications and resources.
Thus, unlike the traditional perimeter-based firewalls, NGFWs with Zero Trust help promote network security, enhances flexibility, improve network visibility, and ensure seamless user experience.
So, if you want to protect your modern organisation's network from increasing cyberattacks and data breaches, check out our Zero Trust services at InstaSafe. Our InstaSafe Zero Trust solutions, like Secure Cloud Access, allow you to replace your traditional firewalls with Zero Trust to provide a single and secure cloud access solution for multi-cloud access and protect your modern cloud infrastructure. Book a free demo today to learn more.