Reasons Why Zero Trust Security Can Boost Your Security Posture in 2021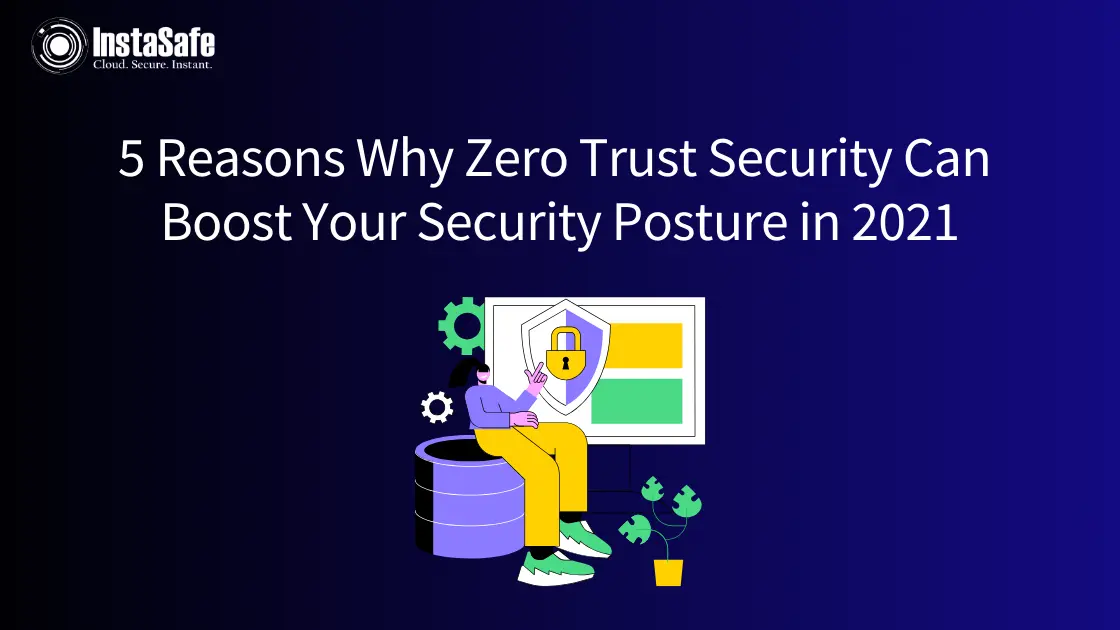 In the new normal where businesses have employed a new 'work from home' model, also known as a virtual and remote working model. The corporate data, resources, and confidential information are no longer limited to the Corporate office boundaries and require remote workforce security. With Cloud Computing taking the charge, businesses are getting exposed to cyber threats and malicious attacks caused due to unauthorized access and data breaches on cloud platforms. This new approach needs a more secure and intact perimeter which can support the security of data on the grounds of cloud computing with a robust security architecture.
"This is where the Zero Trust Security framework steps in the picture, offering a protective and stringent model that protects all the resources and data of the corporate frame".
Not just the external attacks from the malicious attackers, but the increasing insider threats and attacks due to internal incompetence are also forming a major risk to corporate data and resources internally. As per the insider threat report from Gurucul, close to 68% of organizations feel vulnerable to insider cyber threats, and close to 53% of organizations believe that internal cyber threats are hard to detect due to increased cloud migration. The Zero Trust Framework is the ultimate need to counter and prevent these internal attacks where a security framework needs to be developed at every end to promote strict authorizations for those who have the access to the specified resource.
The Businesses operating through the web have been shifting to the Zero Trust Security model in order to promote complete authorization and promote authentic usage of business data and resources. Zero Trust has proved to be a boon for businesses working remotely for virtually accessing the resources with ease. It has provided a streamlined structure to prevent unauthorized access and requests which usually causes the breach.
As per a report by Markets and Markets, the market size of Zero Trust Security is predicted to rise from USD 15.6 billion in 2019 to USD 38.6 billion by 2024, at a CAGR of 19.9% from the year 2019 to the year 2024. The significant factors driving the market include the growing number of false alerts.
What is the Zero Trust Security Framework?
The Zero Trust model of security creates a belief in organizations to gain access to any location, source, or device that should be accessed and cross-checked with technical security.
The name 'Zero Trust' itself specifies that no source can be trusted and granted access until the network verifies the source and authorizes it with permission. Even if it is the in-house office devices or known IP addresses, Zero Trust makes sure that the access is not given to any resource until the authorized user is verified to be eligible for Zero Trust network access.
Though a zero Trust solution is of no good if not executed properly by the security vendors. Choosing the best security vendor for setting up your Zero trust architecture should be a necessary prerequisite. Being preferred and recommended by Gartner for crafting some of the finest Zero Trust Frameworks, Instasafe stands tall in providing one of the finest security architectures for cloud-based infrastructure.
5 reasons to employ the Zero Trust security framework in 2020:
Protects crucial business data
Cyber threats can majorly damage a company's confidentiality and privacy, exposing all the important data stored in a system. Keeping aside the business data, the other stakeholder of the businesses like the Customers and investors, if exposed to such threats, could result in a huge massacre and a major dent in the privacy of millions of people.
This could lead to major downfalls in reputational standards and public reliability and ultimately lead to major financial losses. Being the reason why a robust authorization structure like a Zero trust framework is important to ensure limited and authenticated user access which does not entertain any unauthorized access to business data and its resources.
Enhanced security & easy functionality
Zero trust not only offers a secured framework for authentic and legitimate usage but also enhances the user experience with the help of SSO to eliminate the orthodox complex password structure along with a stronger security model.
The Zero Trust solution caters with excellent application experience and user compatibility to promote efficient Zero Trust Network Access for different kinds of devices and network environments. Zero trust solutions are flexible in adapting to various user behaviors and conditions accordingly.
Attain complete visibility on the whole enterprise traffic
This is one of the core benefits of Zero trust solutions where it provides you with the utmost visibility and information on who is accessing the specific application from which location and at what time.
The professionals and the Security administrators can monitor each and every activity of resource access and verify the user, its device, and the location of the requestor. This gives complete control to the reliable security administrators of the company to control who is authorized and allowed to access the data.
Eliminates the complex management of security stacks
The high-end security stacks consist of multifarious virtual and hardware devices including Servers, VPN replacement, SSO, MFA (Multifactor Authentication) applications, firewalls, web-gateways, load balancing, performance enhancement, and a lot more. Also, to purchase, install, manifest, and finally to deploy all these at each datacenter in all the locations where security stacks are managed could be a daunting task.
Instead, a simple, subtle, less complex, and virtually cloud-based zero trust solution shifts all these functions to an efficient and more secure cloud infrastructure. The cloud providers take all the responsibility of data security and allow you to control the zero-trust security solutions for managing security firmly.
Promotes an efficient shift to Cloud services
With a significant increase in transitions and shifts to the cloud infrastructure, businesses have always been keen about cybersecurity on the cloud where the firewalls and web gateways were never made to protect data and resources on Cloud.
Hence, the Zero Trust Network Access on Cloud is designed perfectly to safeguard applications and resource access on Cloud with a single point of monitoring and control.
Zero Trust framework of authorization and security has set a new standard of security for the businesses working remotely on the Cloud. Following the unconventional needs for security, Instasafe offers you the ultimate solutions for zero trust architecture with improved technologies and mechanisms for Granular Access Control that promotes a rigid structure of authorization and authentication for each part of the system on Cloud.