Decoding Biden's Zero Trust Push and Cybersecurity for Government Organisations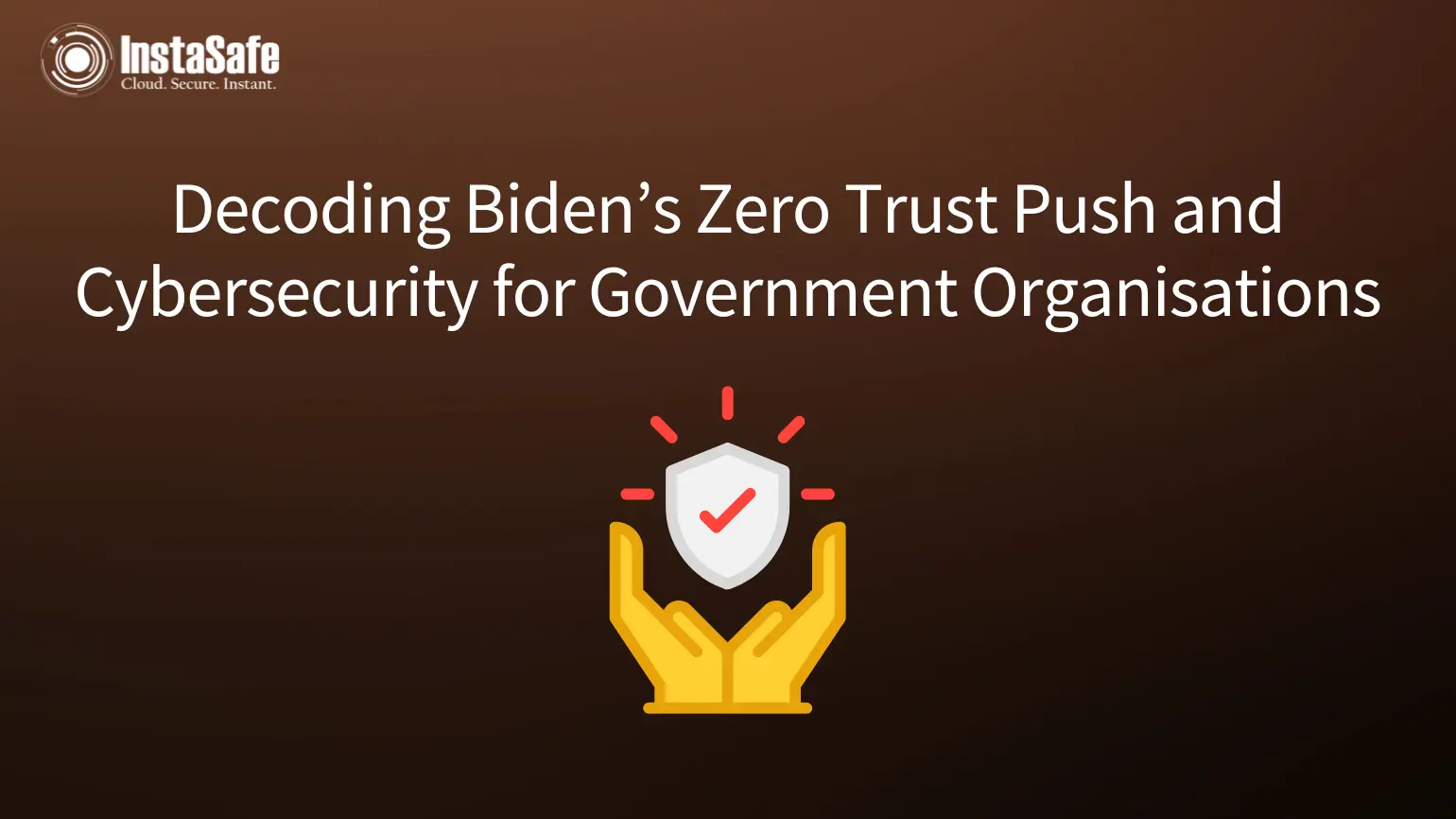 In May 2021, by signing an administrative framework in order to significantly change how they handle cybersecurity, the Biden Administration created cyber security history. The five-pronged plan by the Biden administration to modernize and consolidate the cyber defense of the country seems just the right step to tackle the recent ransomware and other security incidents.
Zero Trust Ransomware has become the latest and most competent threat to the US. Last year a total of $170 billion was invested in cybersecurity, however, there were more infringements than ever before. This was the most catastrophic infringement ever, which had a huge impact on the world economies and corporate transactions, and had cost US taxpayers millions.
Executive Order Rippling Effects
The executive order does not affect the private sector directly, but significant transforming efforts such as these will bring change for security suppliers. Also, company organizations are far beyond governmental control. The acquisition processes of the US federal Government Zero Trust are stiff, outmoded, and frozen, and the executive order's parts aim at addressing them. The rigidity of the acquisition process also provides a basis for other companies in codifying and standardizing standards. As enterprise groups look to it for advice, it will expand dramatically beyond the government.
Zero Trust
In fact, the EO (Executive Order) does not really define much about the elements that should be included in the architecture of Zero Trust. It specifies that agencies shall "incorporate migration stages as necessary which have been described in standards and directions by the National Institute of Standards and Technology (NIST). This is an excellent start and gives a framework for agencies to build on.
This is significant as no clear description has been given by the government of the Zero Trust architecture at this moment. In fact, while many Government Zero Trust entities have already started taking their own Zero Trust editions. Between different models, there was very little uniformity. For example, the Pentagon presented earlier this year the Defence's zero trust architecture. Which comprises a taxonomy of capabilities especially tailoring to the specific needs of the DoD. Other agencies, like GSA, the Air Force, NIST, and others, have their own Zero Trust models meanwhile.
Change From Detection And Prevention To Violation
Zero Trust is a major deviation from typical security concepts for networks. "The security concept of Zero Trust Architecture implies that an infringement is inevitable or has likely occurred previously. Thereby restricting continual access to only what is required and seeking abnormal or hostile activities."
The days of depending on antiquated firewalls are over to avoid infringements. The increased complexity of workloads migrating across datacenters and cloud environments. Also, major ransomware assaults have revealed that traditional safety methods are inadequate.
Cloud is the technology of choice and must be developed on Zero Trust
The necessity to migrate towards the cloud is mentioned in the whole order, for instance: "CISA shall upgrade its current cybersecurity programs, services. Also, capabilities such that they can be fully functioning with Zero Trust Architecture cloud computing environments."
Migration into the cloud must be based on the Zero Trust principles so that workloads may be migrated across platforms smoothly and user access is reduced.
Enhancing the accuracy of prevention of data loss with behavioral aspects Zero Trust
The issue of data visibility still exists with Zero Trust. One or a trillion users could download a file. Regrettably, because the DLP is often compartmentalized away from the rest of the Zero Trust architecture, managers may know who accesses their application or connection, but they do not have a clear picture of who and how much they download. Administrators cannot accurately assess if their data is safe without incorporating DLP into the end of the architecture.
An efficient Zero Trust architecture moves agencies away from their perimeter center to a more data and user-centered approach. Combining your Zero Trust architecture with behavioral analysis enables you to:
Customized policies for adaptive data
Driven insight into behavioral analysis
Classification and data discovery
Improve productivity and reduce tiredness for safety analysts
Your security adjusts to shifting levels of risk by using behavior-based defense. This involves corporate visibility (network, endpoints, and cloud). This allows people to detect when conduct is risky: their risk changes according to how they are behaving, allowing security to tighten specific restrictions and prevent behaviors if necessary. This enables security teams to determine what is benign or suspicious, depending on behavior in the environment.
By using intelligent information security to review judgments that you and your computers may learn from them. The Biden Zero Trust architecture is efficiently using user identity and conducts analysis. Also, assault surface mitigation and data management for Zero Trust. These are vital in their joint efforts to help agencies achieve the aim of "detect, deter, protect, and response". To cyber threats is the goal of the Biden Zero Trust administration.
Section 3B
Section 3B explains that the leaders of each federal agency will need to prepare a plan to establish the Zero Trust Architecture in their business within a period of 60 days. The order notes in Section 4G that bureau heads must apply least privileged practices (a concept of restricting).
Also, access to and only allowing access to any user of information, application, and systems), network segregation (not allowing users or interaction to travel between clouds, networks. And data centers or applications unless expressly specified), also known as "Less privileged practices." These precise instructions highlight practices in the business in cybersecurity and Zero Trust recognizing.
In Conclusion
In short, it is just as effective as those who fulfill their missions that this arrangement is expected to work. It will not be possible to migrate to a Zero Trust architecture overnight. However, the move is welcomed by the public and is surely going to influence the successors and overall perception of the federal government.
It can be said that the government is on the correct path of strengthening their nation's cyber resilience by recognizing that this Executive Order is the moment to change significantly. It describes it as going to a world where no incident has to be catastrophic — and that should be the first priority of every nation.